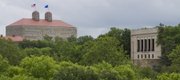 Subscribe to the email edition of Heard on the Hill and we'll deliver you the latest KU news and notes every weekday at noon.
• In the new Internet age in which we live, it's pretty interesting how easy it is to spread your viewpoint far and wide.
Here's a take from Emma Halling, a KU sophomore from Elkhart, Ind., who posted a video essay on YouTube discussing the Trayvon Martin case. (Just a fair warning, the language in the video does get a teensy bit PG-13 at times).
Here's a write-up from her local newspaper on it, too. In the video Halling argues, among other things, that white activists ought not to sport shirts that say "I AM TRAYVON MARTIN."
The video has garnered more than 330,000 views and counting.
Which has come as a bit of a surprise to Halling, apparently.
"I expected about six views — my mom, my dad, a couple professors and some friends," she told The Elkhart Truth.
• I heard through the vast network of savvy Heard on the Hill tipsters that the Office of Multicultural Affairs will be conducting interviews for its open director position starting later this week.
Three candidates will interview for the position. KU has been looking to replace former director Robert Page since last fall.
Rueben Perez, director of the Student Involvement and Leadership Center, has been leading the office in an interim capacity.
• A KU Medical Center researcher's work on how the brain responds to food, and how we decide whether or not to chow down on that tasty bacon has been featured in the Chicago Tribune. (I always chow down on the tasty bacon, which could explain a lot.)
Laura Martin, an assistant professor and neuroscientist at the Hoglund Brain Imaging Center at KUMC, had people look at photos while undergoing brain scans.
She's looking at which parts of the brain light up when people look at food and whether people who are obese respond to nonfood rewards differently than people who aren't.
"We use food in our society for comfort, celebration and grieving," Martin told the newspaper. "We use it at weddings and funerals. Unlike other addictive behaviors, we can't cut it out of our lives. We have to live with a relationship with food and figure out how to make it a healthy relationship."
• My entire brain lights up when you send me a tip for Heard on the Hill to ahyland@ljworld.com.
Copyright 2018 The Lawrence Journal-World. All rights reserved. This material may not be published, broadcast, rewritten or redistributed. We strive to uphold our values for every story published.