Photo Gallery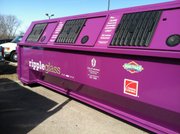 Inside Ripple Glass recycling plant
In February 2012, Ripple Glass started collecting glass bottles in Lawrence. The glass is made into Boulevard Beer bottles and fiberglass insulation.
Ripple Glass recycling locations in Lawrence
Dillons, Sixth Street and Wakarusa Drive
Hy-Vee, Clinton Parkway and Kasold Drive
Hy-Vee, Sixth Street and Monterey Way
On The Rocks, 1818 Mass.
Beer and wine bottles and the occasional Ragu jar fill the purple Ripple Glass recycling bin in the parking lot of On the Rocks Liquor, 1818 Mass. It hasn't been there long, but folks have taken notice — and it fills up quickly.
"At this point, it's definitely the most popular," said Donna Utter, director of business development at Ripple Glass. With beer bottles, empty handles of liquor and pasta jars, there's a little bit of everything.
The city of Lawrence began a partnership with Ripple Glass in Kansas City about two months ago. There's no doubt the bins are a hit.
Michelle Gundy, field supervisor with the city's waste reduction and recycling division, said she has worked for the city for 15 years and people have always commented on wanting more opportunities for glass recycling.
Within three weeks, 25 tons of glass had been accumulated at the four Lawrence locations. Gundy said another load would be picked up soon.
Ripple Glass has been around for about two years and is the brainchild of the leaders at Boulevard Brewery. Before, Kansas City lacked a reliable glass-recycling program. The metro area now has 90 drop-off centers, but the Ripple Glass plant can still process more glass.
"They can do more than what we were collecting here in town, so we stretched out to places like Lawrence," Utter said.
There are four locations in Lawrence. However, Ripple Glass's footprint stretches across the Midwest. It also has drop-off centers in Missouri, Arkansas, Iowa and Nebraska. Ripple Glass also recycles commercial glass from restaurants, bars or casinos.
She said recycling glass has a handful of benefits, Utter said, namely that glass doesn't degrade as it's recycled.
"You recycle a ton of glass bottles, you get a ton of bottles," she said. "There's nothing lost."
Currently, the company recycles enough glass to make 100 million new Boulevard Brewery beer bottles. In fact, 10 percent of the glass collected by Ripple Glass does get made into Boulevard bottles.
The other 90 percent travels down an alley and around the corner from the Ripple Glass plant to Owens Corning. Owens then makes fiberglass insulation out of it.
How it works
There are a few steps between getting glass from the beer bottle in your fridge to the insulation in your house.
Here's a step-by-step of how it happens.
Consumers drop off empty bottles, jars or other glass at one of the bright purple Ripple Glass bins. There are some things Ripple doesn't accept, though. This includes mirrors, Pyrex, CorningWare, coffee mugs and pottery.
Collected glass is picked up and is transported to the Ripple Glass plant in Kansas City, Mo. Piles and piles of glass waiting to be recycled sit outside. Many of the bottles and jars are still whole — but not for long. Drew McDonald, one of the company's five employees, will spread the glass out across the cement for the first sorting process. Plastic bags, boxes and other items that don't belong with the glass are removed. "There's a significant amount of it, and it just helps the next step," Utter said.
He then loads the glass into a silo using the wheel loader.
The glass moves up a conveyer belt and into the second story of the plant, and another employee watches the glass move along the belt and removes "true contaminants," such as ceramics or porcelain. These items have characteristics so similar to glass that the machinery won't realize it's nonglass.
From here, the process is mostly mechanical. Two rolling metal cylinders then break the glass. Breaking the glass helps pop off lids, remove any trash like lemons or napkins that are left in the bottles and loosens labels. Then with a little help from gravity, the glass shards fall to the first floor for the rest of the process.
The glass travels through an optical sensor and is sorted further. The sensor can detect the color of the glass. Ten percent of the amber-colored glass shards are sorted out. They will later be shipped to Saint-Gobain Containers in Sapulpa, Okla., to be made into bottles for Boulevard Brewing Company.
The other 90 percent of the glass continues on and goes into the first grinder. Glass shards are ground down into the size of Tic Tac mints. This further loosens labels and other contaminants. A vacuum removes leftover paper particles. The glass cullet is no longer sharp.
The cullets then travel through a second grinder, which reduces it to the size of sand. The fancy term for the material is now "three-mix, fine grind, furnace-ready cullet." This means its made of three colors of glass and is ready to be made into fiberglass. The cullet travels on a conveyer outside and into a purple silo.
Belly dump trucks are filled 20 tons of cullet and drive down the alley and around the corner to Owens Corning, about 10 miles away. The trucks usually make three to four trips a day.
At Owens, the cullet is misted into a furnace where it's liquefied. It's then spun out like cotton candy and into fiberglass.
Copyright 2018 The Lawrence Journal-World. All rights reserved. This material may not be published, broadcast, rewritten or redistributed. We strive to uphold our values for every story published.