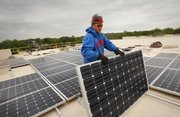 Whether you call it global warming or climate change, science has become more definitive than ever: Humans are harming the Earth.
Since before Al Gore dazzled with his PowerPoint presentation, from individuals to industry, there has been an endless fount of ideas, large and small, to minimize humans' impact on the Earth.
Most local residents will not go out tomorrow and convert their cars to run on vegetable oil or mount solar panels on their roofs — although both of those would help the Earth.
Here are some no-cost and low-cost quick fixes that anyone can do, starting today.
Start at home
Environmental experts say that taking action to help the Earth is more about changing behaviors than anything else.
"We know that if you have identical houses with two different families living in them, they can have vastly different energy use," said Aron Cromwell, Lawrence city commissioner and owner of Cromwell Environmental. "It comes down to how those people choose to use or not use energy."
Although most people remember to turn off the lights when they leave a room, Cromwell says that the same conscience doesn't always carry over to when people are away at work or on vacation.
Cromwell closes his blinds in the summer months to keep out the hot sun. In the winter months, he closes his drapes to help insulate around his windows.
Also, when you are away for longer periods, Cromwell says to make sure electronics are off; additionally, turn off the power strip that connects them.
If you are not sure you can remember to close the blinds or turn off power strips, try something automatic: a programmable thermostat. That way, once you program it, energy use goes down during the times you need it least — when you're sleeping or not home.
For those who don't already have a programmable thermostat, Cromwell recommends taking advantage of Westar Energy's WattSaver program to receive a free thermostat that can be controlled through the Internet.
"Where you set the thermostat can have a big impact on your utility bills and how much energy you use," Cromwell said. "You should work on changing your comfort point in your own house by a few degrees."
According to the U.S. Department of Energy, the household appliance that uses the most energy is the clothes dryer. In the past few years, there has been a strong movement toward encouraging people to air dry their clothes, either on a clothesline or drying rack.
Project Laundry List is a website dedicated to the cause, and according to the site, if all Americans were to air dry their clothes, they would save enough energy to close several power plants.
In addition to those suggestions for your home, Cromwell says there are two relatively small investments for homeowners that also can save both significant money and the Earth: The first is to add insulation to your attic, and the second is to go around your house with caulk to seal cracks around windows.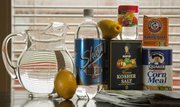 Clean house
Kim Scherman, Kansas University student and president of KU Environs, says that switching to environmentally friendly cleaning products helps the Earth by not sending chemicals into drainage systems and rivers. They also can be better for your health.
"People think if they don't buy Clorox or something similar, their house won't be as clean. It's just not true. Honestly, you don't even know what's in it and how it could affect you," she said.
She recommends going online to look for eco-friendly cleaning solutions and home remedies for stains and tough dirt. Most, if not all, of the ingredients can be found in your pantry.
Two effective cleansers — to be used separately — are plain white vinegar or baking soda.
Mix one part vinegar with four parts water to clean the stove and countertops, mop the floors or wash windows. Shake baking soda and a little water onto stains or grime, let it sit a few minutes, then scrub.
Scherman has stopped using paper towels in her home altogether and instead uses cotton washcloths. If you can replace your household's dependence on paper towels, your contributions to landfills will diminish dramatically, not to mention decreasing the deforestation and chemical processes in paper towel manufacturing. The same goes for other disposable disinfectant wipes, mopping pads and toilet sponges that will go in the trash after one use. Use old T-shirts or socks as cleaning and dusting rags, and throw them in with the next load of laundry.
Wrap it up
Scherman's two favorite reusable materials around the house are aluminum foil and glass. She recommends using foil instead of disposable plastic baggies to pack lunches or keep food fresh. She saves her foil and hand washes it with her dishes so she can use it again. If it tears or deteriorates, it can be recycled.
She uses glass containers to store leftovers and hold drinks at home, and she recommends having a reusable water bottle instead of purchasing plastic bottles of water.
"People are into being green," Scherman said. "I think it's exciting for people to take small steps to change and be able to say they're environmentally friendly. Do things you can feel good about."
Copyright 2018 The Lawrence Journal-World. All rights reserved. This material may not be published, broadcast, rewritten or redistributed. We strive to uphold our values for every story published.