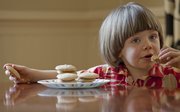 Our little boy turns 4 this month, and he's a huge fan of all things orange. He loves his orange plate, his orange sippy (full of orange juice), and his orange … oranges.
It seemed like a logical move to create an orange cookie for his birthday.
Dried "cranbabies," as Junior calls them, give a nice flavor boost to this simple cookie dough, and the hands-on construction allows for some fun one-on-one time with your kids.
Cream together one cup of unsalted butter, one cup of granulated sugar and one cup of unpacked brown sugar. It won't exactly be fluffy, but it should be well blended.
Add two eggs, one tablespoon of vanilla and one tablespoon of orange extract. Blend for about one minute, scraping the mixing bowl regularly.
Now for the flour. I used bread flour for these cookies because I happened to have a 9,000 pound sack of it on hand. You can use the plain stuff, or whole wheat flour, or whatever floats your boat. If you try gluten-free flour, lemme know how it turns out.
Add four cups of flour to your sugar mix, one cup at a time. Along with the first cup of flour, include a teaspoon of salt and a heaping tablespoon of baking powder. Blend well after each addition. Depending on the sturdiness of your mixer, the last cup of flour may need to be stirred by hand.
Okay, it's decision time. After you add a cup of dried cranberries to the blob in the bowl, you have a choice to make.
What's your favorite nut? No, not who. We're not going to be dicing Uncle Arthur into our cookies.
Are you fond of pecans? Do you prefer walnuts? Would you go ape for almonds? Slice or dice a half-cup of your chosen nut and stir it in with the cranberries.
Now that you've reached muscle fatigue, you should have wonderfully fragrant cookie dough. Crank your oven up to 350 degrees and line a cookie sheet with baking parchment. Call in the kids and get ready to roll.
Pinch off pieces of dough and roll them between your palms to make one-inch balls. Here's where the pattycake part comes in. Slap your hands together to flatten the dough into a disk. Fun, eh? Singing the song is optional.
Arrange the cookies about an inch apart on your baking sheet. They don't spread out much, so don't worry about overcrowding. Bake for 11 minutes, or until the edges just start to turn brown. Let the cookies cool on the sheet for a couple of minutes before transferring them to a wire rack. In case you were wondering, they taste pretty great fresh out of the oven. The whole first dozen did, actually …
If you're feeling really creative, leave the cranberries and nuts out of the dough and use them to make faces on the shaped (unbaked) cookies. Diverticulitis patients can skip the nuts entirely.
Enjoy!

Copyright 2018 The Lawrence Journal-World. All rights reserved. This material may not be published, broadcast, rewritten or redistributed. We strive to uphold our values for every story published.