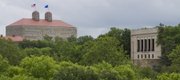 Subscribe to the email edition of Heard on the Hill and we'll deliver you the latest KU news and notes every weekday at noon.
Your daily dose of news, notes and links from around Kansas University.
• It's always interesting to get the annual faculty salary data from the Chronicle of Higher Education. It's available online here.
I get asked from time to time what professors make, and it varies, obviously, from discipline to discipline and the professor's research track record.
But this annual survey from the AAUP does about as good a job as anything in summing up where an institution is at.
For example, a full professor at KU earns, on average, $116,100 per year. An associate professor (in other words, a professor who has already earned tenure) earns on average, $78,800. And assistant professors (people who are typically on a tenure track) earn on average $69,200.
All of those are below the median for doctoral institutions (with associate professors, in the 30th percentile, being the lowest of the ranks).
There's one other interesting bit of data I noticed, however. Even with the abrupt slowdown in faculty salaries since 2008, the average full professor's salary has increased by $41,900 since 2000. That's slightly higher than the national average of a $36,400 increase over that same time period.
• Here's another update on former KU Provost Richard Lariviere. You may remember that the provost who rankled a few folks around here with his "sharp elbows" left to become president of the University of Oregon.
There, he was ousted last November after clashing with that university's governing board on a number of issues.
Now, it looks like he's headed to Chicago to become director of the Field Museum there, reports the Chicago Tribune.
The hire is expected to become official on Tuesday and he is scheduled to begin in the new post in August.
• KU has named the book it intends to use for its first Common Book program, in which all freshmen will receive the book at orientation and be encouraged to read it.
The book will be "Notes from No Man's Land," a collection of essays by writer Eula Biss.
A committee recommended the book after considering more than 125 books recommended by members of the KU community.
Biss will visit the campus in October as part of the programming surrounding the book.
The first-year students will be encouraged (but not outright required, as I understand it) to read the book before coming to campus, and several events will be scheduled around the program.
These kinds of things are popping up all over the country, it seems. Kansas State has a similar program, and this fall they'll be reading "The Immortal Life of Henrietta Lacks," about a poor black farmer whose cells were taken and used in all kinds of scientific research. The hope from KU's perspective is that the program will help plug students into school so they are less likely to drop out.
• I'm still working on getting Heard on the Hill into the curriculum as required reading in all university classes (no luck so far), but if you keep sending me those awesome tips, to ahyland@ljworld.com, we'll be set in no time.
Copyright 2018 The Lawrence Journal-World. All rights reserved. This material may not be published, broadcast, rewritten or redistributed. We strive to uphold our values for every story published.