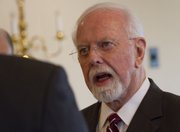 1) Worked in the family ice cream and candy business in Idaho growing up as the second of nine children, and decided to become an academic while in graduate school in California.
"That decision all by itself tells you something," he said, noting the life of scholarly writing and research isn't for everyone.
2) "Got lucky," by having a former student alert him to a faculty opening in his specialization at Syracuse University, one of the top schools in his field. He got the job.
"After about three or four years of teaching administration, as the years went on, it became clear to me that I needed to do it to understand it better," he said.
3) Watched the ash from the eruption of Mount St. Helens settle on Eastern Washington University in Cheney, Wash., where he became university president at the age of 42.
4) Closed the university for a week as people (himself included) shoveled themselves out of the three-quarters of an inch of ash that coated everything.
5) Got in some hot water after he publicly posed a guess as to why nearby Washington State University closed for the entire rest of the term after the May 1980 eruption.
"Maybe they ran out of beer in Pullman," he said.
6) Served in the U.S. Army. He enlisted in lieu of being drafted and served stateside between the Korean and Vietnam wars. "Again, I got lucky," he said.
It taught him the importance of order, he said, something that's important to convey to the would-be city managers whom he teaches today. Residents of a place like Lawrence will often value order — Is the trash removed? Is the water pure? Are the streets safe? — first of all, Frederickson said.
7) Taught at Oxford University's Balliol College, established in 1263, for a year. The school is known for training top-ranking British government officials. He also taught in China for three weeks at Fudan University in Shanghai.
"Context matters," Frederickson said, adding that imparting American ideas to the Chinese — who are perhaps a little obsessive about order, he said — should be done very carefully.
8) Celebrated his retirement on Friday with a gathering of friends, colleagues and family members at a "festschrift," where academic papers are presented at a celebration of his career. Frederickson spent 25 years at KU after leaving Eastern Washington.
9) Used to eat lunch with Buford Watson, former Lawrence city manager, and said it would take 45 minutes for Watson to walk from City Hall at Sixth and Massachusetts streets down a few blocks to a restaurant. Watson seemed to know everyone, and was always stopping to shake hands and catch up.
"He was a better politician than any politician we had," he said.
10) Pioneered the idea of social equity in public administration. Before this idea, it was commonly thought that governments should be efficient and economical. Frederickson added the idea that distribution services ought to be fair.
Therefore, he said, it's important to ask whether government is equally efficient for residents who live on the east side of Lawrence as on the west side, or north of the river.
11) Used poems, books and other forms of the humanities to help him teach graduate students about city management. He used the book "Charlie Wilson's War" (long before it was a movie, he said), to illustrate how politicians can sometimes get in the way of the actual way government functions.
12) Wrote a book with his son, who also went into his same academic field.
13) Watched his wife, Mary, earn a second bachelor's degree in English at Eastern Washington. Though she tried to blend in by using her maiden name, her instructors all seemed to know she was the president's wife. Today, she serves as his editor.
14) Accomplished things in groups — his family, his church, his Army squads and platoons, leading a university — and learned few things can be accomplished alone.
15) Defended the reputation of bureaucrats, whom he helped to train for several years. Though they often get a bad rap, he said, he felt they were important in helping governments actually function.
"I never met a bureaucrat I didn't like," he said.
16) Learned to appreciate many institutions, but he said he learned to love family and friends more.
"An institution cannot love one back," Frederickson said.
Copyright 2018 The Lawrence Journal-World. All rights reserved. This material may not be published, broadcast, rewritten or redistributed. We strive to uphold our values for every story published.