Wichita — A tornado that hit Wichita has caused widespread power outages and other damage.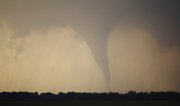 Kansas Division of Emergency Management spokeswoman Sharon Watson said there were reports of damage to housing in the southeast part of Wichita as well as at McConnell Air Force Base and Spirit AeroSystems.
Westar Energy reported that more than 22,000 people were without power Saturday night, with all but 2,000 of them in the county where Wichita is located.
During the storm, the National Weather Service in Wichita briefly turned over its forecasting duties to the Topeka office while the meteorologists took shelter. The tornado is one of at least 10 to hit the state as part of a powerful storm system.
Meteorologists say one suspected tornado narrowly avoided Salina. Another was on the ground for about half an hour north of Dodge City.
Copyright 2018 The Associated Press. All rights reserved. This material may not be published, broadcast, rewritten or redistributed. We strive to uphold our values for every story published.