Monday marks the one-year anniversary of the crossover crash on Kansas Highway 10 near Eudora that killed 5-year-old Cainan Shutt.
"The accident wasn't his defining moment. We just want him to be remembered for all the things that he's done and continuing to do, and take the focus away from what actually happened that day," Cainan's mother, Alison Shutt, of Eudora, said.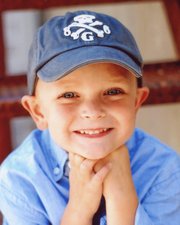 She said her son's legacy has led family members, friends and local officials to advocate and work together with the state to increase safety on K-10 between Lawrence and suburban Kansas City.
Family members and friends have adopted a two-mile stretch of K-10 that includes the section of the 2011 crash near the Church Street exit. Last November the Kansas Department of Transportation agreed as part of a pilot project to install cable median barriers along the stretch of the four-lane, divided highway.
At 3 p.m. Monday, weather permitting, Cainan's friends and family members will gather to clean up along the highway near Eudora.
"It's just going to be our way to give back," Shutt said.
Colleen Walker, a family friend, said group members plan to clean along that part of the highway three times a year. The Adopt-A-Highway signs eventually installed there will also mention group members are doing it in memory of Cainan.
Anyone is welcome to help with Monday's cleanup. The group plans to gather at 3 p.m. in Eudora. To give KDOT an accurate count on the number of orange vests to provide, Walker said anyone who wants to attend should send her an email at cwalkerinspire@sunflower.com. The group also plans to have a potluck dinner after at the Eudora Community Center, 1638 Elm St.
Ryan Pittman, 24, who grew up in Eudora, also died that day when his vehicle crossed the median and struck head-on the minivan the children's stepgrandfather, Danny Basel, was driving.
Basel and his wife, Ann, who are both city of Lawrence employees, were also injured. Cainan's sister, Courtlynn Shutt, 2, suffered a neck injury, but she has made a full recovery, and the Basels are physically healing as well, Shutt said
Hundreds of people after the crash formed the group "Cables for Cainan," and KDOT made the decision last November to install cables as a pilot project near Eudora and at another two-mile stretch in Johnson County after several meetings with a stakeholder group that included several officials from Douglas and Johnson counties, including Eudora Mayor Scott Hopson. Cables in the median are aimed at preventing vehicles from crossing into oncoming lanes and causing dangerous head-on collisions.
Kimberly Qualls, a KDOT spokeswoman, said Friday the department expected to select a contractor for the cable project early in the summer. The project is scheduled to be completed by late September.

Copyright 2018 The Lawrence Journal-World. All rights reserved. This material may not be published, broadcast, rewritten or redistributed. We strive to uphold our values for every story published.