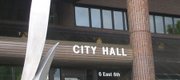 Subscribe to the email edition of Town Talk and we'll deliver you the latest city news and notes every weekday at noon.
News and notes from around town:
• Gather around young 'ens, and let me tell you about the old days. All the way back until April of 2000, if you wanted to have gourmet coffee, (brace yourself) you had to get out of your car to get it. That's right. There were no drive-thru coffee shops in Lawrence. Just fast food chains that sold something labeled as coffee, not that fancy stuff that will make your eyelids twitch for a good hour or two after a $7 shot of it.
April of 2000 is when Z's Divine Espresso brought Lawrence into the gourmet coffee drive-thru era with its store at 1800 E. 23rd St.
Well, there is now change a brewing in that business. Founder Mark Zwahl has sold the business — including the downtown store — to Baldwin City resident Sherry Bowden.
Bowden recently took over operations, and told me much of the business will remain the same.
"We'll still be organic and green and all the good things like that will continue," said Bowden, who worked for 20 years in the food and vending business in the Kansas City area.
As for Zwahl, he said he plans to "decompress" for awhile. (How long does it take to get 12 years of espresso caffeine out of your system?) He recently did begin work in the volunteer position of center director for the Kansas City/Heartland Community of the Mankind Project, an area men's self-improvement and social group. He also said he plans to begin doing consulting work for businesses that want to create a "value-driven" organization rather than one that is just based on profits.
But Zwahl said he will be watching the local coffee scene with interest. He thinks many coffee shops are going to have to make major adjustments to compete in the future.
"I think the industry is holding up, but the big change was when McDonald's decided to enter the coffee business in a big way," Zwahl said.
As the likes of McDonald's, Dunkin' Donuts, and even Dairy Queen have started to sell specialty coffee drinks, Zwahl said traditional coffee shops better start coming up with a new sales strategy. Selling the sophistication of a double mocha may not work as well in the future.
"It is not really gourmet if there is one on every corner," Zwahl said. "I think to survive, the coffee shops are going to have to get into the food business a lot more, and I didn't want to become a restaurateur."
Beats me. I don't drink coffee and neither does my wife. I thank my lucky stars for that each day. If my insurance agent thought there was a chance my wife would be driving while ingesting the caffeine of an espresso, he surely would cancel our coverage.
• You may need a jolt from a double espresso, cappuccino, frappe, whipped, shaken-not-stirred, something or another to keep up with the pace that this youth fieldhouse/recreation center proposal is moving at.
City commissioners at their Tuesday meeting are scheduled to apply for a state grant that would help pay for $2.5 million worth of roadwork that is necessary to create safe access to the proposed site on the northwest corner of Sixth Street and the South Lawrence Trafficway.
The grant application should start to give folks an idea of how significant an undertaking this fieldhouse/recreation center project will be. The $2.5 million project the city is considering represents improvements that have to be made on roads leading to the site. In other words, the $2.5 million won't make any improvements to the site itself. All those improvements will come at a later time with an additional price tag.
Specifically, the city is seeking a grant to widen Sixth Street (which is also U.S. Highway 40) just west of the SLT interchange. The project would widen Sixth Street to four lanes for about a quarter mile west of the interchange. That's about where the entrance to the First United Methodist Church is located. The church is on the south side of the highway, and the entrance to the new center would on the north side of the highway.
In addition to widening the road and adding turn lanes, the project also would involve chopping seven to eight feet off of the hill, which would greatly improve the sight distance at the intersection.
The city is applying for a Geometric Improvement Grant through the Kansas Department of Transportation. The grant would pay up to $900,000 of the project. The city would be responsible for paying for the remaining $1.6 million, or whatever the final price tag ends up being.
Applying for this grant doesn't commit the city to anything yet, but it gets the city pretty close to making a commitment. It would be embarrassing for the city to apply for a highly competitive grant only to turn it down later.
This project is moving at an extremely fast pace for City Hall business, yet not once have the private developers — namely members of the Schwada family and Thomas Fritzel — ever made a public presentation about what their vision is for the project. Also, there has never been any type of public announcement about how much money the private sector is expected to bring to this public-private partnership. It will be interesting to see if that soon changes.
• I admit it. I have no transition in my bag of writing tricks to get us to the topic of a black-footed ferret. But indeed there is a black footed ferret to talk about today. The city's Prairie Park Nature Center is now home to the extremely rare animal.
The city received a six-year old black footed ferret named Harlem within the last week. It has been estimated that there are less than 1,000 black-footed ferrets in the wild, and a few decades ago they were thought to be extinct.
Harlem is not on public display yet, but rather is getting acclimated to her new surroundings. Plans call for a public unveiling of her habitat and display area at 2 p.m. on April 22 at the Prairie Park Nature Center, 2730 Harper.
The city received the ferret from the U.S. Fish and Wildlife Service's National Black-Footed Ferret Conservation Center in Wellington, Colo.
My understanding is the ferret's new home in the center will be right next to the prairie dog exhibit. That's interesting because a black-footed ferret's primary food source are prairie dogs.
"They can see each other but they won't be able to get at each other," Roger Steinbrock with Lawrence Parks and Recreation told me.
Sounds like a cartoon in the making.
• In case you have forgotten, April 22 is also Earth Day. But here in Lawrence you don't have to wait until Earth Day to actually celebrate Earth Day. On Saturday, the city will host an Earth Day celebration from 11:30 a.m. to 4 p.m. in South Park.
To kick off the event, KU Environs will have parade at 11 a.m. on Massachusetts Street from Seventh Street to South Park. At South Park, about 60 exhibitors will be on hand, including live music, food vendors and a host of informational booths on how to live a more-environmentally-friendly life.
There is no charge to attend the event.
Copyright 2018 The Lawrence Journal-World. All rights reserved. This material may not be published, broadcast, rewritten or redistributed. We strive to uphold our values for every story published.