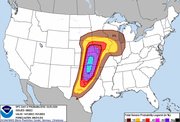 Norman, Okla. — An outbreak of fierce storms, some of which could spawn large and violent tornadoes, are expected to develop across the nation's midsection on Saturday in a band running from Texas north to Minnesota.
Lawrence could be in the storms' path.
The worst weather is expected to develop in the late afternoon between Oklahoma City and Salina, Kan., but other areas also could see severe storms with baseball-sized hail and winds of up to 70 mph, forecasters at the Storm Prediction Center in Norman, Okla., said Friday.
The outbreak could be a "high-end, life threatening event," according to a report from the center, which is part of the National Weather Service.
It is only the second time in U.S. history that the center has issued a high-risk warning more than 24 hours in advance, said Russ Schneider, director of the center, which is part of the National Weather Service. The first such warning was issued in April 2006 before nearly 100 tornadoes tore across a large swathe of the southeastern United States.
In the Lawrence area, there is a chance of severe thunderstorms Saturday night and early Sunday morning.
"Right now we're looking at (possibly) a tornadic outbreak, and large hail. As time goes on it will morph into a line of thunderstorms. There will be heavy rain and wind," said National Weather Service meteorologist Shawn Byrne.
In the event of a tornado, residents should seek shelter in areas that have plenty of walls, and few windows, said Teri Smith, director of Douglas County Emergency Management. There are no FEMA-approved tornado shelters in the city.
"You need to go to the lowest level (and) have the most walls as you can between you and the outside, with no windows," she said. "People need to make sure to know where to take shelter, no matter where they're at. It's important that people have a plan, have a kit and stay informed."
The latest warning was issued as a strong storm system moves in from the western United States with cold air combining with low-level moisture coming up from the Gulf region. The difference in wind direction and speed created by the storm system creates instability in the atmosphere that helps create rotation that can spawn tornadoes, said Scott Curl, a meteorologist at the NWS.
"It's amazing how many things you have to get to get a tornado to develop, and many of those ingredients will be in place," Curl said.
While the most severe storms are expected to hit in Oklahoma, Kansas and Nebraska, there could be severe weather in Iowa, Missouri, Texas and portions of Illinois. On Sunday, the storm system is expected to move east Sunday, centering over Wisconsin, Illinois, Missouri, Arkansas, Texas and Louisiana.
"This is a very powerful weather situation," Schneider said. "The environment is extremely favorable for violent, long-track tornadoes.
"The only question is when and where these storms will initially develop."
Copyright 2018 The Associated Press. All rights reserved. This material may not be published, broadcast, rewritten or redistributed. We strive to uphold our values for every story published.