If there is a more unstoppable pitching duo around, don't tell Free State High's batters.
The Firebirds could only muster four hits and a pair of runs Tuesday against Olathe East's 1-2 punch of junior Jenni Brooks and sophomore Allison Stewart. The Hawks squeaked by with a 2-1 victory in the opener before earning a commanding 12-1, six-inning win for the sweep at FSHS.
Brooks struck out 15 of the 26 FSHS hitters she faced in Game 1 before Stewart fanned 13 Firebirds in a one-hitter.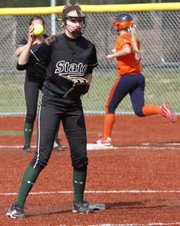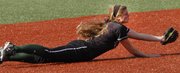 Free State coach Lee Ice said both O-East hurlers are returning all-league aces for the defending Sunflower League champions, and he was glad the Firebirds (2-4) had a chance to knock one of them off in the first game, when sophomore FSHS pitcher Meredith Morris gave up just five hits and two walks in seven innings.
A single apiece from Free State seniors Alex Hill and Hannah Whipple were the only marks against Brooks entering the bottom of the seventh, when junior Courtney Parker belted a leadoff double off the wall in left field.
Said Hill: "I thought it was out. Hitting's contagious usually, so I thought we would maybe kind of get something going off of that."
And with another powerful bat coming up, Ice wanted to give sophomore Whitney Rothwell the chance to drive in the tying run or even swing for the fences with a win still in sight.
However, Brooks became the first of three straight Brooks strikeout victims, with Morris and Elizabeth Hazlett to follow, and O-East prevailed.
Ice said his team nearly had all the pieces in place for a victory.
"In game one, we got pitching, good defense," he said. "We just didn't get the timely hit. But that's what good pitching does against us."
O-East improved to 6-0 in the second game and Stewart gave up just one hit, a solo home run off the bat of FSHS senior Sam O'Brien in the bottom of the fourth.
"It felt good," O'Brien said of the shot, "but we definitely should've been a lot better. It would've felt a lot better if we had a lot more hits behind me."
Ice wanted his players to focus on the positive of the first game, but was disappointed in how the following six innings played out.
"Where we have difficulties is taking that first game to the second game sometimes," he said, "and staying focused and playing another seven innings just like we played."
Ultimately, O'Brien said Free State didn't produce enough hits.
"Those are probably some of the best pitchers in our league," she said, "so it was definitely difficult."
Ice said playing O-East and Olathe South, two of the top teams in the league, has led to early struggles.
"Hopefully our offense comes around," he said. "We really haven't swung the bats like we're capable of doing yet."
At 4:15 p.m. Thursday, Free State plays host to Shawnee Mission Northwest.
Copyright 2018 The Lawrence Journal-World. All rights reserved. This material may not be published, broadcast, rewritten or redistributed. We strive to uphold our values for every story published.