Welcome to the 21st century, weather warnings.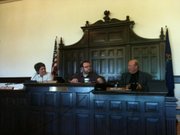 On Wednesday, Douglas County commissioners gave the go-ahead to begin promoting technology that would allow residents to sign up to receive phone calls, email alerts or text messages about severe weather.
"This is one more way to get information out to individuals," said Teri Smith, Douglas County Emergency Management director, noting it was especially valuable in rural areas that are out of earshot of tornado sirens and where weather radios are iffy. She also said it will reach younger generations, who are constantly connected to cellphones and social media sites.
Residents can sign up for the alerts at the service's website.
Alerts can go to three phone numbers and two email addresses per registered user. The users can also pick how those alerts will be delivered (automated phone call, text message or email) and what kinds of severe weather they want to be notified about. Alerts are available for warnings and watches issued through the National Weather Service and include tornadoes, severe thunderstorms, blizzards, flash floods, fire weather, ice storms and winter storms.
The system is already in place and being used internally by more than 700 of the county employees, emergency responders, health department officials and storm spotters. The alerts are part of a call notification system that was purchased by the Northeast Region Homeland Security Council several years ago and funded through federal grant money. It is available throughout the 23 counties in northeast Kansas.
Douglas County has been using the system for about a year and a half, Smith said. The system can be used for more than just severe weather alerts. Before it was offered to the public, Smith said, the county wanted to troubleshoot problems and test its response time. Right now, users get an alert within five minutes of a warning being issued.
Following the Harveyville tornado, the service was promoted throughout northeast Kansas, and several Douglas County residents have already signed up for it.
But Douglas County officials didn't want to start publicizing the tool without making sure the commissioners would be willing to continue paying for the service in the future.
While the service doesn't cost the county anything now, it could in the future. The contract between the Northeast Region Homeland Security Council and call notification system provider ends in 2014. Grant money coming to the council continues to decline, making it likely that the cost for the system would be passed onto the counties.
"It's the kind of service where once you have it, you can't pull it," County Administrator Craig Weinaug said. "I think you need to be aware that making a decision will cause a future impact."
The service currently costs about $1.50 per customer per year. So if the county had 30,000 people sign up it could run the county $45,000 a year.
Even at that cost, commissioner Jim Flory said he thought the money would be well-spent.
"Keeping citizens safe is paramount," Flory said. "I understand it is a significant (amount of money), but $45,000 to do that doesn't seem unreasonable."
Copyright 2018 The Lawrence Journal-World. All rights reserved. This material may not be published, broadcast, rewritten or redistributed. We strive to uphold our values for every story published.