Photo Gallery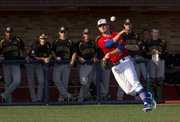 Kansas baseball vs. Wichita State (Game 1)
It had been a long time since Albert Minnis and Aaron Rea took the field together in Lawrence and wreaked havoc on opposing baseball teams during their run as teammates at Lawrence High.
But the two were at it again Tuesday night, this time as visitors in their own town.
Powered by an RBI double from Rea in the top of the 16th inning, visiting Wichita State outlasted Kansas University, 6-4, at Hoglund Ballpark.
Minnis, who teamed with Rea to help LHS win the 2009 state baseball title, picked up the victory on the mound by tossing four innings and giving up just one hit while striking out three.
"I'm just happy I got to play here again," said Rea, who was not in Tuesday's starting lineup but played the final seven innings at third base. "I haven't been back for a while, and it was kind of surreal to have Albert on the mound and us playing a game in Lawrence. It was awesome."
Like Rea, Minnis did not expect to play Tuesday night. But as the game wore on and coaches Ritch Price and Gene Stephenson began to go to their bullpens like their favorite candy, the lefty knew he could get the call at any minute.
"It means a lot to be able to pitch here," Minnis (3-4) said. "I had a lot of people come out to support me, and it felt great being back home. To go out there and get the win made it feel even better."
The Shockers (20-15) nearly lost in a regulation, but a hard-hit ball by designated hitter Casey Gillaspie found a gap when KU center fielder Dakota Smith lost it in the air, and WSU tied the game at 4 with two outs in the top of the ninth inning.
The two teams followed the wild ninth with six scoreless innings before Rea's double scored Tyler Baker, who led off the 16th with a double of his own. A few batters later, an error by KU's Ka'iana Eldredge allowed the Shockers to plate an insurance run.
"It's definitely tough," said KU shortstop Kevin Kuntz, whose gem of a defensive play in the 10th inning kept KU alive. "A game like that was definitely a true grind. I don't even know how many innings we played. It almost was like playing a doubleheader."
The game was the longest in the storied history between these two in-state rivals and the second longest game in KU history. It also featured KU's Tucker Tharp tying a school record for plate appearances in a game, with eight. Tharp finished 4-for-8 with a run and an RBI, small consolation for a game that got away.
"They pitched well, and we just couldn't get a clutch hit late in the game," Tharp said.
The Jayhawks (12-20) and Shockers will meet again at 6:30 p.m. today at Eck Stadium in Wichita.
Copyright 2018 The Lawrence Journal-World. All rights reserved. This material may not be published, broadcast, rewritten or redistributed. We strive to uphold our values for every story published.