The Kansas Supreme Court on Thursday will hear the appeal of Christopher Belone, who was sentenced to nearly 49 years in prison for killing his girlfriend by beating her with a coffee table leg.
In his appeal, Belone requests a new trial, contending there were numerous errors during his 2007 trial before then-District Court Judge Jack Murphy.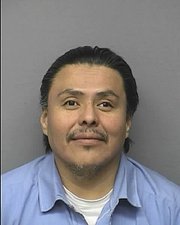 Belone was sentenced to 586 months in prison after being convicted of second-degree murder, kidnapping and other charges in the death of Linda Begay, 37.
According to police testimony, on July 29, 2006, Belone found Begay in another man's trailer at the Gaslight Village mobile home park, 1900 W. 31st St. Belone dragged Begay out of bed and struck her with his fists and a table leg, Begay told police.
Begay died three days later, after an infection developed from a hole in her small bowel that was caused by blunt trauma to the abdomen, officials said.
Belone's defense attorney is arguing before the state Supreme Court that the jury was never allowed to determine whether any negligence by the hospital rose to the level contributing to Begay's death.
At Lawrence Memorial Hospital, Begay underwent a CT scan and X-ray, and a surgeon was called in for consultation, according to court records. But the decision was made not to operate. When Begay's condition worsened, she was transferred to Stormont-Vail Hospital in Topeka, where she died.
Belone's defense also argues that the district court failed to instruct jury members that they could find Belone guilty of the lesser offenses of reckless second-degree murder, involuntary manslaughter or manslaughter. The jury could have found that Belone acted recklessly but not with intent to kill, Belone's defense attorney said.
In addition, the court did not appropriately instruct the jury on how to consider prior acts of domestic violence by Belone, according to Belone's appeal.
In a legal brief submitted by the Douglas County District Attorney's Office, prosecutors deny there were errors in the trial, and say even if there were, statements from Begay before she died and other witnesses, and scientific evidence linking Belone to Begay's blood supported the conviction.
"Even if this court were to determine that there was error, the evidence against appellant is overwhelming," the legal brief states.
Copyright 2018 The Lawrence Journal-World. All rights reserved. This material may not be published, broadcast, rewritten or redistributed. We strive to uphold our values for every story published.