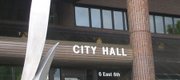 Subscribe to the email edition of Town Talk and we'll deliver you the latest city news and notes every weekday at noon.
News and notes from around town:
• There were lots of T-shirts in the old Joe College shop at 734 Mass. that probably weren't the best for generating good karma. (They certainly didn't do anything to improve the mood of some administrators at KU.)
But the storefront now has a new karma-friendly lease on life — one that will give everyone a chance to understand more about Indian culture. Cosmos Indian Store is set to open May 1 at 734 Mass.
Owner Amrutha Ravikumar has owned an Indian food and gift store in Topeka for the last 14 years. That store — also named Cosmos — focuses mainly on Indian groceries with a few speciality gift items. The Lawrence store will take the opposite tack, Ravikumar said.
The Lawrence store will include a wide selection of Indian clothing, handcrafted fashion accessories, Indian jewelry, imported incense, herbal products and even henna — which I believe is a type of natural dye that can be used to create temporary body art.
On the food side, the store will carry fresh Indian spices, specialty rice, chutney, sweets, Chai and several other items.
Ravikumar, who recently moved to Lawrence from Topeka, said the store is being designed to serve more than just Lawrence's Indian population. She said the university gives the entire community an interest in international culture, and she is hopeful its location in downtown will bring in curious onlookers.
Local commercial real estate agent Allison Vance Moore of Colliers International helped broker the deal to bring the store downtown.
• We've reported several times recently about the Lawrence Chamber of Commerce's search for a new president and CEO. Well, don't forget that there is another economic development-oriented organization seeking a new leader as well.
Destination Management Inc. — the Lawrence-based non-profit that runs the Lawrence Convention and Visitors Bureau and the Freedom's Frontier National Heritage Area — is seeking a new leader to take over for president Judy Billings, who is retiring.
Billings tells me the organization is very close to making a hire. My understanding is the organization's board is in the process of making a formal offer to a candidate, which means an announcement could be coming soon.
Billings told me the group received 22 applications for the position. Six candidates were interviewed by phone. Three finalists then were brought to Lawrence for interviews. The interviewing process is now complete. Billings said she expects an announcement in late April.
All that means that Billings' long career in the local convention and visitors industry is winding down. Community leaders have scheduled a retirement reception for her from 4 p.m. to 6 p.m. May 2 at the Carnegie Building at Ninth and Vermont streets.
• Here's a new twist related to the proposed youth fieldhouse/recreation center in northwest Lawrence: It may bring a whole lot more retail and commercial development to the intersection of Sixth Street and the South Lawrence Trafficway than originally envisioned.
When the private development group that owns the property submitted a rezoning request in late March, it asked for about 80 of the 146 acres on the northwest corner of the intersection to be rezoned for heavy commercial usage.
Now, city planning officials are recommending the entire 146 acres be rezoned to allow heavy commercial uses. In fact, the city's planning staff is proposing an entirely new commercial zoning category be created
Specifically, planners are asking for a new zoning category called CC 600. The category would allow for 600,000 square feet of commercial and retail development to occur at an intersection. The Sixth and SLT intersection currently is zoned for CC 400, which would allow 400,000 square feet of commercial and retail development.
Under the city's current code, there is nothing between the CC 400 and the CR zoning designation, which allows for up to 1.5 million square feet of commercial space. So, this is an in-between option.
But it is important to note that if this new zoning category is created, it won't just be available to the fieldhouse project. Other developers in other parts of town will be able to ask for this zoning designation. I suspect several will because most developers would rather have 600,000 square feet of commercial space to sell than 400,000 square feet.
This is the type of issue most normal residents couldn't care less about. But it also is the type of issue that can create long, drawn out discussions at City Hall. These zoning categories go a long way in determining how much traffic an intersection will have in the future, and there are several neighborhood groups that care about that. It will be interesting to see if this change in plans creates a delay for the fieldhouse project, which has been moving at a lightening-like pace. Planning commissioners are scheduled to consider the new zoning category issue at their May meeting.
But probably more interesting will be whether these zoning issues help shed light on what type of development may occur around the fieldhouse/recreation center. The city memo mentions hotels, restaurants and other similar uses. At some point in time in this process, we'll also find out how large this fieldhouse/recreation center will be. I'm growing particularly interested in that because I'm now hearing more about an "arena" that would be part of the facility. That could be anything from a big gymnasium with lots of bleachers, or it could be a much more sophisticated venue with stadium seats and the whole works.
The city memo mentions the arena part of this project as being capable of hosting sporting or "entertainment events." What type of entertainment events are we talking about? Concerts? A circus? Or … wait a second … I just thought of this. How about a monster truck show? Just to be clear, I haven't heard that — but a hick can dream. Now, that would be recreation.
Copyright 2018 The Lawrence Journal-World. All rights reserved. This material may not be published, broadcast, rewritten or redistributed. We strive to uphold our values for every story published.