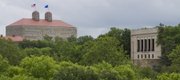 Subscribe to the email edition of Heard on the Hill and we'll deliver you the latest KU news and notes every weekday at noon.
Your daily dose of news, notes and links from around Kansas University.
• The KU fight song is causing some trouble in Lee's Summit, Mo., according to this story from the Lee's Summit Journal.
During the morning announcements at Trailridge Elementary School, apparently, songs are played every now and again.
And on April 2, the KU fight song was played, albeit "briefly," a school spokeswoman told the paper, "in support of the Midwest school competing in the national college basketball championship."
This, erm, didn't go so well.
Parents, presumably Missouri fans, decried the playing of the fight song in a publicly funded school.
"I suggest you move to Kansas and get support from those taxpayers," one parent wrote, targeting school principal Matt Miller.
Another apparently thought this could be used as a recruiting tool.
"Missouri exited the Big 12 conference over this type of incident, Texas University creating their own network to help recruit kids to their school," wrote another parent. "And here at home, must we experience the same thing in our own public school district?"
A whole bunch more fun stuff is in the story, so you really should go read it.
• Here's a bit more on an interesting story I reported on first last week.
It involves KU suing to get its researchers' names added to a patent for a pretty successful anti-cancer drug called Velcade.
Val Stella, a distinguished professor of pharmaceutical chemistry, and research assistant Wanda Waugh, who retired from KU in 1999, were added to the patent after an arbitrator reviewed the case.
The two helped maintain the stability of a compound in the drug after being asked to help by the National Institutes of Health. But they weren't listed on the patent.
The case got a mention in the Chronicle of Higher Education, and in Bloomberg's Businessweek.
"The case has been closely watched because the federal government does not have clear rules for determining who gets credit for inventions to which both government employees and others have contributed," the Chronicle said.
Bloomberg reported that the drug, licensed to Japanese-based Takeda Pharmaceuticals, generated $623 million last year. That's up from the $200 million-plus that it generated in 2008.
It's an interesting case, to be sure.
• As of Sunday, I still hadn't seen a decision from Louisiana State University on its provost hire.
Stuart Bell, the dean of KU's School of Engineering, is a finalist for the position. News reports indicated that a decision was expected by the end of March, so it seems like the search is taking just a little longer than they wanted.
Finalists were brought to campus around the beginning of March.
The target start date for the job is July 1, so there's still plenty of time to make a decision.
I'll update, of course, when I hear more.
• If I had an intercom, the song I would play would only feature the lyrics, "Please submit your Heard on the Hill tips to ahyland@ljworld.com." That's probably why I don't have an intercom.
Copyright 2018 The Lawrence Journal-World. All rights reserved. This material may not be published, broadcast, rewritten or redistributed. We strive to uphold our values for every story published.