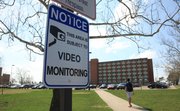 Kansas University is adding extra sets of eyes to parking lots and other buildings.
And KU Police Chief Ralph Oliver is thankful for the expansion of security cameras on campus.
He believes adding cameras over the years has been a deterrent for burglars and other criminals. They also can be good witnesses.
"When someone does commit a crime in front of one of those cameras, it enhances our ability to identify those suspects," he said.
The security cameras are not new, as KU began installing them about seven years ago, Oliver said, after a female student was attacked by someone with a knife near the Lied Center and another incident near Gertrude Sellards Pearson and Corbin halls.
In the past two years, the university has become more aggressive and added more than 90 cameras as the provost's office has given the KU Public Safety Office more leeway to install cameras in areas officers believe they are needed. Oliver said KU does not comment about the total number of cameras it has because officials don't want potential criminals to know how many they use and exactly where they are.
The expansion is focusing on outside areas like parking lots and along Jayhawk Boulevard, where large amounts of students walk and keep property.
"We are researching our past crime statistics to look at particular hot spots, not just for one year but over the years places that seem to be an ongoing problem area, Oliver said.
The provost's office has allotted $250,000 for this year for the installation of new cameras and to cover the cost to migrate the old camera system into the new camera system as technology has improved. Oliver said the department has people monitor cameras at night.
Safer parking lots
In areas like parking lots and entrances to residence halls on Daisy Hill, there are signs to publicize cameras are in use both to make people feel safer and hopefully to pre-empt criminal activity, he said.

Keiara Expose, a Leavenworth freshman who lives at McCollum Hall, thinks having cameras in parking lots and residence halls is a good idea because it can help give police more clues in auto burglaries and deter potential criminals.
"Probably most of the students that have cars out here would be for it," she said.
KU Student Housing two years ago installed cameras on outside doorways and lobbies, Oliver said. That helped police identify and arrest as suspect who was peeking on women in showers in residence halls and also aided officers in the arrest of three auto burglary suspects outside Gertrude Sellards Pearson Hall, he said.
Oliver credits the use of video technology for why the Lawrence campus crime rate has dropped 26 percent since 2001, and statistics KU released last week showed the number of burglaries and thefts reported on campus have mostly been on a downward trend:
• Total burglaries dropped from 154 in 2001 to 127 in 2006 and 60 in 2011.
• Auto burglaries was at its lowest point in the last decade at 28,
• 32 burglaries were reported inside structures last year compared to 81 in 2001 and 82 in 2008.
• Total theft reports, including in buildings and from vehicles, also dropped from 362 in 2001 to 212 in 2011.
Oliver said that doesn't mean crime is nonexistent. Three vehicle burglaries — likely by the same suspect — occurred over one night in February at the Park and Ride lot on West Campus, and two cameras in the area were not working due to a maintenance issue, Oliver said. Incidents like that can make it appear there's a spike in property crime.
"Over the years auto burglaries have decreased, and we'd like to think a part of that is because of the cameras, patrolling and individual citizens contacting us when we see suspicious behavior," he said.
Edwards Campus cameras
KU is also installing cameras for the first time on the Edwards Campus in Overland Park.
While the cameras can aid law enforcement and possibly deter crime, he said, that's only one piece of the puzzle.
"It's important for people to understand that cameras don't catch criminals. They are witnesses," Oliver said. "They may alert us to something that's going on. They're not a substitute for one's personal concern on safety and taking steps to either call us for escorts at night or walk with individuals to your car, that type of thing. It's not a substitution for their personal safety."
Copyright 2018 The Lawrence Journal-World. All rights reserved. This material may not be published, broadcast, rewritten or redistributed. We strive to uphold our values for every story published.