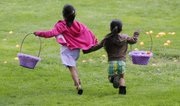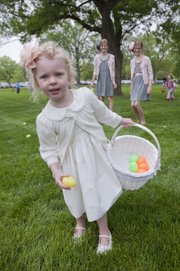 Matteo Kalusha-Aguirre, 10, sat at the edge of the grass, picking through a white paper sack filled with candy. He unwrapped a Reese's Peanut Butter Cup and popped it into his mouth, smiling. The candy was his reward for collecting five plastic eggs.
All around him other children were scampering and scrambling, some of them thoughtfully loping, across the park, plucking up eggs and plunking them into their Easter baskets.
It had rained much of the morning, but hundreds of families still flocked to South Park to attend the Easter Egg Extravaganza on Saturday afternoon.
The event was sponsored by the Lawrence Parks and Recreation Department and Hy-Vee Food and Drug Stores.
Just before 1 p.m., colored, plastic eggs blanketed the grass throughout the park. The children's assignment was to fetch five eggs of a different color. In under an hour, half of the eggs were in children's baskets. But there was no danger of running out: Most of the children were generous enough to offer their eggs for recycling — in exchange for a goodie bag.
"We ask them if they want to keep them or recycle them," said Tena Bush, a human resources executive for the Hy-Vee at 4000 W. Sixth St. "Most people say, 'I have no need for these eggs in my house.'"
Bush has attended the egg hunt at South Park for a few years now.
"It's always so much fun to watch all of the kids," she said.
Emily Zong brought her daughter, Elaina, to the egg hunt. It was their second year attending. Emily said she was happy with the variety of children's activities that were available: Kids could have their faces painted, jump in bouncing moonwalks or meet the Easter bunny.
There were also people twisting balloons into animal shapes. Many children carried or wore balloon animals on their arms and heads as they roamed the park. Everything, except for the grilled food sold by vendors who set up shop on the sidewalk, was free.
Even with the range of options, picking the best part of the day for Matteo was easy: "the free candy."
Copyright 2018 The Lawrence Journal-World. All rights reserved. This material may not be published, broadcast, rewritten or redistributed. We strive to uphold our values for every story published.