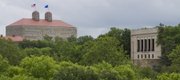 Subscribe to the email edition of Heard on the Hill and we'll deliver you the latest KU news and notes every weekday at noon.
Your daily dose of news, notes and links from around Kansas University.
• If you're looking to drum up attendance at your event, whipping up a plate of nachos that's 80 feet long, 2 feet wide and 10 inches deep might not be a bad way to start.
It's also pretty much a guaranteed way to get mentioned in Heard on the Hill. So if you're into nachos, you can go to the Kansas Relays from noon to 2:30 p.m. Saturday, April 21, inside Memorial Stadium (I really hope they do it on the football field).
The nachos will feature corn chips, ground beef, salsa, beans, nacho cheese and Pico de Gallo. The Salty Iguana and Centerplate, Kansas Athletics' concessions provider, will help create the nachos, which would be served in a world-record size.
People with a Kansas Relays ticket and a canned food donation (or a cash donation to the LINK Kitchen), can help eat the stuff.
• The theme for the 2012 Centennial Homecoming was announced Thursday.
It's "Nachos Yesterday, Nachos Today, Nachos Forever."
I'm kidding, of course (but no word on whether that was actually considered). The real theme is "Century Long, Tradition Strong: Homecoming on the Hill."
The week-long celebration is scheduled for Oct. 21-27, culminating in the football game against the University of Texas on Oct. 27.
• Even though there (probably) won't be nachos, the Hall Center for the Humanities has announced several lectures for the upcoming academic year in its 2012-13 Humanities Lecture Series.
A former contributing editor for NPR's "This American Life," a poet and creative writing professor, a KU communication studies professor, a Haitian fiction writer and the general editor of "Norton Shakespeare" will all be speaking at KU in the coming year.
For those of you keeping track at home that's (in order), Sarah Vowell, Nikki Finney, Robin Rowland, Edwidge Danticat and Stephen Greenblatt.
For more information, including the lecture topics and dates and times, check here.
• Man, think of all those nachos. What would we do if the NachoTron 3000 were there, too? I don't know, but I know what we should do. And that's submit tips for Heard on the Hill to ahyland@ljworld.com.
Copyright 2018 The Lawrence Journal-World. All rights reserved. This material may not be published, broadcast, rewritten or redistributed. We strive to uphold our values for every story published.