On the stage are two men and a woman.
The woman, going by the name Carmen Monoxide, is petite and blonde and really rocking out. One of the men is unremarkably clad in jeans and a T-shirt, but the other, long hair flailing as he jams, has the ripped shirt and studded leather look of a metal star.
Photo Gallery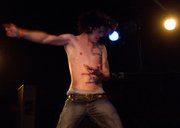 Lawrence Air Guitar Championships
The trio is getting into their song, jumping, lip-syncing and, yes, shredding their guitars.
But none of them are actually holding a guitar. They're tearing up the stage at the Bottleneck and engaging the crowd with nothing but their imagined instruments.
Air guitar — "playing" along with your favorite guitar riff — may have been a literal bedroom habit of rock fans with energy and imagination, but it's made the jump from private pastime to competitive pursuit. And Wednesday night, the Bottleneck hosted the Lawrence Air Guitar Championship, inviting virtual virtuosos from across the area to shred the air.
Kansas City resident Brian Reeves is better known on the stage as the CorpAIRation, a suit-and-tie clad thrasher who progressively gets less and less buttoned up (he's even got fake business cards made up). He's been competing in the area for about two years and says public air guitar events are "like a cross between wrestling, ice skating and rock 'n' roll." It's like a kid playing video games made into an adult party — but don't count it out, he says, it's also just really good fun.
I've never heard of anyone coming to one of these things and not leaving just saying, 'That was amazing! I'm so glad I came,'" he says. "It can go in directions you never expected."
With rules set out by the Air Guitar World Championships and its own documentary film, "Air Guitar Nation," it's a serious sport that gets Reeves' competitive edge going.
"Everything's better when you win, right?" he says.
The CorpAIRation didn't end up with a win in the event at the Bottleneck, but Lawrence resident Travis Arey, AKA Sid Benign, did get fourth place.
Arey says his persona was Sex Pistol Sid Vicious' less cool little brother and that the competitive air guitar phenomenon is much like a "goofy" punk concert -- kinda weird, very loud, but filled with people who just come out for fun.
"It may be a rag-tag group, but you know they'll be your friends," he says.
Jamie Nixon came out to the Lawrence event not to compete but to watch her friends not play guitar because she's "a supportive friend," she says. She also likes the idea of air guitarers "creating a subculture" in their 60-second performances.
The competition was judged by Lawrencians Joel Pfannenstiel, Jason Barr, Marty Hillard, and Eric Melin, who blogs about films for Lawrence.com. Pfannenstiel said he was looking for high energy performance, emulation of guitar playing and "hot licks," perhaps the quality Reeves called "airiness" -- the overall high-quality performance.
In the end, Thunderball, better known as Nielsen Nacis, a first-time performer and Kansas City native, shredded out the title.
Rock on.
Copyright 2018 The Lawrence Journal-World. All rights reserved. This material may not be published, broadcast, rewritten or redistributed. We strive to uphold our values for every story published.