Lawrence city government has embarked on a new era of cooperation with business, and in particular Kansas University, outgoing Mayor Aron Cromwell said Tuesday night in his state of the city address.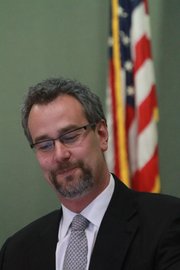 "Our working relationship with KU has never been better," Cromwell said in an interview with the Journal-World.
Cromwell said a renewed sense of cooperation with KU probably was one of the more significant developments during his one-year term as mayor that ended Tuesday as commissioners elected Commissioner Bob Schumm to serve as mayor for the next 12 months.
"There is a true spirit of cooperation now between the city and the university, and we're actually listening to each other," said Cromwell, who credits Chancellor Bernadette Gray-Little with making better relations with the city a high priority of her administration. "And KU is looking very hard for spin-off opportunities for their research, which could be very positive for Lawrence's economy."
Schumm, a downtown restaurant owner and landlord, was unanimously elected by fellow commissioners to serve as mayor, his third stint in the position since the late 1980s. Schumm for the past year has served as the vice mayor, which traditionally has been the position next in line to serve as mayor. Commissioners also unanimously elected Commissioner Mike Dever to serve as vice mayor.
But as has traditionally been the case, Tuesday's changing of the guard ceremony largely was devoted to giving the outgoing mayor a chance to reflect on the past year. Cromwell, who will remain on the commission as a commissioner, said:
• He was pleased with progress that has been made to design a multimillion-dollar expansion to the public library. Schumm labeled Cromwell as the driving force behind the effort to win voter approval of an $18 million bond issue for the library project.
"I'll always remember Mayor Cromwell for his work on the library," Schumm said. "He is the one who spent hours knocking on doors asking voters their opinions."
• The city's operations had made good strides in becoming more environmentally sustainable. Cromwell, who is an environmental consultant by trade, said the city had reduced its energy usage, created a new program to promote urban agriculture and had improved the city's recycling options. In particular, Cromwell led the efforts to create a new glass recycling partnership with Kansas City-based Ripple Glass. Cromwell said during the first month of operation, the new glass recycling bins have diverted from the landfill 1 ton of glass per day.
• Discussion of changes to the city's trash system would continue. Cromwell was chairman of the city's Solid Waste Task Force, which has made several recommendations to add a new curbside recycling program and mandate the usage of city-issued trash carts instead of standard cans or bags.
Cromwell said the trash issues have taken longer than he anticipated but said the community dialogue has been positive.
"I've heard the absolute necessity of maintaining the high levels of customer service that is offered today," Cromwell said of the city-operated trash service. "I'm confident the city can create a system that is economically friendly, environmentally friendly and safe for our workers.
"I'm going to make sure that this issue maintains its momentum. It will continue to be a priority of mine."
Copyright 2018 The Lawrence Journal-World. All rights reserved. This material may not be published, broadcast, rewritten or redistributed. We strive to uphold our values for every story published.