Free State defeated Shawnee Mission South, 4-1, on Tuesday to move to 2-0 on the season.
Photo Gallery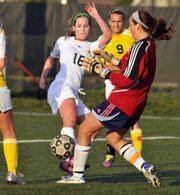 FSHS soccer vs. SM South
"We're starting to put things together," FSHS coach Kelly Barah said.
Maddie Dieker scored Free State's first goal of the game, assisted by Hadyn Hutchinson. Allix Ice and Chelsea Casady scored the next two goals, followed by Abbey Casady's goal, assisted by Margaux Gill.
"We have a really tough one on Thursday, and I'll be interested to see how we react to that one," Barah said.
Free State hosts defending state runner-up Shawnee Mission West on Thursday.
"We have started the conference, so every game is tough now," Barah said. "This is one of those that we pencilled in that would help gauge where we're at early in the season."
Copyright 2018 The Lawrence Journal-World. All rights reserved. This material may not be published, broadcast, rewritten or redistributed. We strive to uphold our values for every story published.