Photo Gallery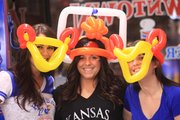 Highs and lows: Jayhawk fans watch the game in Lawrence
The banjo music should have been a clue.
All afternoon and evening as downtown Lawrence grew into a giant street party in advance of Monday's national championship matchup versus Kentucky, Mike Helvey entertained the crowd with banjo music at the corner of Seventh and Massachusetts streets.
Yes, the banjo — as in bluegrass, as in Kentucky.
"I do know 'My Old Kentucky Home', but I don't think I would make many tips playing it tonight," Helvey said.
It didn't matter. It was meant to be a Kentucky-sort of night.
A dejected but largely subdued crowd filed onto Massachusetts Street following Kansas University's 67-59 loss to No. 1-ranked Kentucky.
"It hurts tonight, but a week from now it will be remembered as a great season," said Lawrence resident Nathan Nehring. "That's how I look at it." Fans shared hugs, loitered on the sidewalk and a few even broke into chants of "We're No. 2." But Sgt. Trent McKinley, a spokesman with the Lawrence police department, said large numbers of fans were leaving the downtown in short order after the game.

"So far things are going very well," McKinley said around 11 p.m. "We've had a couple of medical emergencies and a couple of fights, but most of it has been relatively minor."
McKinley estimated at the time that there had been fewer than five arrests made in the downtown area on Monday evening.
The game attracted 14,113 to KU's Allen Fieldhouse, where the game was shown on the video board. But tens of thousands — police didn't have a specific estimate — flocked to downtown for the game.
Caroline VanSlambrouck hobbled downtown on a pair of crutches. The Kansas University soccer player had surgery to repair a broken foot on Friday but said she was determined to come downtown to be among the Jayhawk faithful.
In fact, she was downtown for Saturday night's celebration after KU punched its ticket to the championship game with a win over Ohio State.
"Everybody was trying to give me high-fives," VanSlambrouck said. "But I was like, 'I'm on crutches. I'll fall over.'"
VanSlambrouck was safe on Monday.
By halftime the Jayhawks were down 14 points, but the Massachusetts Street crowd was still in good spirits. The 1000 block of Massachusetts had the largest crowd all evening, and an impromptu dance-off developed in the block during halftime as a street musician played a homemade drum made of coffee cans, milk jugs and paint cans.
Fans were still giving the Jayhawks a chance to mount a comeback, but also were turning a bit philosophical about the season that was.
"In my opinion, Coach Self is building a dynasty here, and this game won't change that," said Adam Courtney, who was watching the game from the sidewalk seating area of Buffalo Wild Wings, 1012 Mass.
After the final buzzer, several fans said the loss was easier to accept given that many prognosticators at the beginning of the season had expected this to be a rebuilding year. Instead, the Jayhawks won their eighth straight conference championship and made a string of come-from-behind victories in the NCAA Tournament to reach the championship game.
"I really did think we had another miracle in us," said Jack Delaney, Lawrence.
Fans came prepared to celebrate one. Kelsey Milford, Lawrence, brought a bottle of Andre red Champagne — or perhaps it was Crimson. Despite the loss, she popped the cork anyway.
"We're celebrating a great game," she said, "not a game lost."
Copyright 2018 The Lawrence Journal-World. All rights reserved. This material may not be published, broadcast, rewritten or redistributed. We strive to uphold our values for every story published.