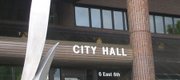 Subscribe to the email edition of Town Talk and we'll deliver you the latest city news and notes every weekday at noon.
News and notes from around town:
• Look for a new gift shop to open in Downtown Lawrence — and imagine this — it may not carry any KU Final Four T-shirts.
Instead the store Ten Thousand Villages will carry coffee, chocolate, home decor, art and other items grown or produced in villages from around the world. And, in case the store needed another twist, it will be a not-for-profit operation. (Definitely not a phrase associated with KU Final Four T-shirts.)
Ten Thousand Villages has more than 350 stores across the country that promote the idea of fair trade, which is the concept of selling products at a price that ensures the people who make or grow the products are paid a fair wage for their work and also have safe working conditions. The organization has a store in Overland Park, which has been one of its top-grossing locations across the country.
The non-profit board that runs the Overland Park store was looking for a place to invest some of the store's excess earnings, and has decided to provide seed money for a store to open in Lawrence.
Enter Alicia Erickson into the equation. Erickson has been an organizer of an annual fair trade market at the Ecumenical Campus Ministries building at 12th and Oread, north of the Kansas University campus. Erickson now has been put in charge of finding 14 to 16 people to form a new non-profit board to operate Lawrence's own Ten Thousand Villages store.
Erickson said the organization currently is filing its 501(c)3 paperwork, and hopes to be in a position to open a new store by the fall. Erickson said the new store definitely will be in Downtown Lawrence, but the group hasn't yet selected a specific location — which likely will be about 1,500 to 1,700 square feet in size.
Once the store does open, it will have a non-profit feel to it. The store will only have two paid employees, but will use volunteers to help staff the shop.
As for what type of products will be in the store, Erickson said coffee and chocolate from foreign countries are big sellers, as well as jewelry, scarves, handbags and other similar items.
Erickson is convinced the store will do well in Lawrence because many residents already are socially aware and understand the concept of fair trade.
"I think people in Lawrence are going to like the idea of buying a product and knowing that they can trust that the human on the other end of the product is being treated fairly," Erickson said.
• We've told you several times that Iowa Street near the 15th Street intersection will be a mess in summer 2013 as crews completely rebuild that stretch of road.
Well, the city is certainly taking the "in for a dime, in for a dollar" approach when it comes to Iowa Street improvements. At its meting on Tuesday, commissioners will get the ball rolling on another summer of 2013 improvement for the road. Commissioners are set to hire Lawrence-based Landplan Engineering to design major improvements to the Sixth and Iowa intersection.
Plans call for Sixth Street to have a new left-turn lane added that will accommodate motorists who are driving west on Sixth but want to turn south onto Iowa Street. Currently, there are just two westbound lanes of traffic on Sixth, and a turning vehicle creates long backups and risky lane changes.
Engineers are estimating that the average delay at the intersection — which accommodates about 30,000 vehicles a day — will drop from 89 seconds to 27 seconds.
The new turn lane will require the existing lanes of traffic to be reduced from 12 feet to 11 feet in width. The project is expected to cost about $900,000, but the city is hopeful that Landplan will figure out a way to cut some costs so a few other features can be added to the project.
Specifically, the city wants to explore:
— A dedicated right-turn lane for eastbound traffic on Sixth Street that wants to turn south onto Iowa Street.
— Dual left-turn lanes for northbound traffic on Iowa Street that wants to turn west onto Sixth Street.
— A sidewalk on the south side of Sixth Street from Rockledge to the entrance of the Highpointe Apartments at Sixth and Iowa.
The city was hoping that a state transportation grant could be used to pay for the $900,000 project. But the city lost out on that application — sort of. Instead, the state decided to fund major improvements — including new turn lanes — to the 23rd and Iowa intersection. Design work for that project already is underway.
As they say in the road construction business, motorists who use 23rd Street may want to seek alternative routes — or, perhaps, a hover craft.
• Have you heard that KU is playing for the National Championship tonight? That's what I'm here for, to keep you up to date on such obscurities. Many of us, of course, remember the 2008 championship well. I worked the dayshift at the paper on April 7, 2008. One of my memories is how odd Downtown Lawrence was even during the day. It was like Gen. George Patton had risen from the grave, but instead of attacking downtown with tanks he was doing so with beer trucks.
There were beer trucks parked in the middle of Massachusetts Street, and many bars were packing their basements full of kegs and cases.
As one beer truck driver told me back then, "There's been a lot of overtime, and I haven't had to deal with any unhappy bar owners either. They're all in a great mood."
I suspect it is tough to wipe the smile off their faces this April, too. Back in 2008, I contacted an owner of Lawrence-based O'Malley Beverage, which distributes Budweiser. He told me then that sales were up 35 percent compared to the same week a year earlier. Plus, he said business was about 10 times better than the days leading up to the Super Bowl, which is an immensely profitable period for the liquor business.
Anyway, neat memories, and it is fun to think that we'll get a chance to make more of them today. It is a great day to be from Lawrence.
If you are planning on making memories in Downtown Lawrence after the game, I'll look for you. I'm working the night shift this time around. I'll try to say hello to some Town Talk readers. Just do me a favor: Wear something Crimson and Blue so I can pick you out in the crowd.
Copyright 2018 The Lawrence Journal-World. All rights reserved. This material may not be published, broadcast, rewritten or redistributed. We strive to uphold our values for every story published.