New Orleans — Kentucky's Doron Lamb scored 22 points and Anthony Davis added six blocks, 16 rebounds, five assists and three steals as Kentucky held off Kansas for a 67-59 victory in the national championship game Monday night at the Superdome in New Orleans.
Photo Gallery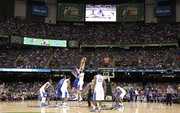 Kansas v. Kentucky (National Championship)
Photo Gallery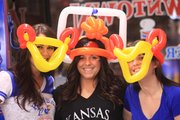 Highs and lows: Jayhawk fans watch the game in Lawrence
Photo Gallery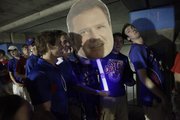 Pre-game outside the Superdome
KU and Kentucky fans gather at the Superdome and take shelter in the underground parking during a storm before the NCAA Men's Basketball Championship game, Monday, April 2, 2012.
Kentucky's 11 blocks set a new championship game record, while Davis' six blocks tied the individual NCAA championship game record.
KU made just 17 of 51 two-pointers (33 percent).
Kentucky led by as many as 18 in the first half before KU trimmed the halftime deficit to 41-27.
KU cut the lead to 62-57 with 1:37 left on a pair of free throws by Thomas Robinson but couldn't come any closer.
Tyshawn Taylor led KU with 19 points on 8-for-17 shooting with three assists and five turnovers. Robinson added 18 points and 17 rebounds, making just six of 17 shots.
Both Robinson and Taylor were named to the Final Four All-Tournament Team. Davis was named the Most Outstanding Player.
KU ends its season with a 32-7 record.
Check Jesse Newell's live blog for post-game stats and analysis.
Copyright 2018 The Lawrence Journal-World. All rights reserved. This material may not be published, broadcast, rewritten or redistributed. We strive to uphold our values for every story published.