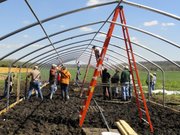 Weather is one of the biggest challenges Kansas farmers face, but a simple structure known as a high tunnel can help producers control it just a little bit. High tunnels are sometimes called hoophouses or unheated greenhouses, and are temporary plastic-covered structures typically used for specialty crop production.
What do high tunnels mean for consumers? Better availability of fresh, local produce. Think of fresh, juicy strawberries a few weeks earlier in the spring and fresh spinach in December in most years. Tomatoes and raspberries are also common high tunnel inhabitants.
Farmers can produce crops earlier and/or later into the season with high tunnels because the plastic covering provides protection to plants from late fall and early spring frosts. High tunnels also allow farmers to control the amount of water crops receive and can ease pest management.
Local produce
A few Lawrence-area farmers use high tunnels already for fruit, vegetable and flower production. Jen Humphrey and Jessica Pierson of Red Tractor Farm, 974 E. 850 Road, are building one in the hopes of extending the growing season and increasing the farm's profitability.
Red Tractor Farm produces Boer meat goats and chickens in addition to fruits and vegetables, and is a vendor at the Downtown Lawrence Farmers' Market. Their products are also available at Lawrence restaurants featuring local food and through a subscription service.
Pierson says she became interested in farming while working in various restaurants.
"I was learning about food, and I just kept following it back to the source. I started making bread from scratch, and now I want to grow the wheat to make it from."
Construction benefits
Red Tractor Farm's new high tunnel is being built with an assistance agreement from the Natural Resources Conservation Service's (NRCS) Seasonal High Tunnel Initiative. According to the NRCS website, the goal of the initiative is to assist producers in extending the growing season in an environmentally safe manner.
NRCS notes that high tunnels help the environment through improved plant and soil quality, reduced pesticide and fertilizer runoff, improved air quality through reduced transportation inputs, and reduced energy use through availability of fresh, local produce.
To build the high tunnel, Red Tractor Farm agreed to host a high tunnel construction workshop sponsored by the Kansas Rural Center and K-State Research and Extension. The workshop, held March 24, allowed other farmers who are getting ready to build or thinking about building a high tunnel to learn about it firsthand.
Dr. Cary Rivard, K-State Research and Extension's state fruit and vegetable specialist, says that high tunnels are just as important for crop protection as for season extension.
"We think it is a really good investment," Humphrey says. "We both work off the farm, and farming has to be squeezed in every place we can manage. We have worked with other farmers such as Jill Elmers and can see the advantage of extending the season."
Pierson adds: "It's about managing your risks. You're not quite as much at mercy to the weather."
NRCS lists a third application period for the Seasonal High Tunnel Initiative through June 1, 2012. More information can be obtained by visiting its website or by calling Coleen Davison at the Douglas County NRCS office, 843-4288.
Davison is also scheduled to speak about the Seasonal High Tunnel Initiative this Tuesday at the Growing Lawrence meeting. Growing Lawrence is a producers' association and meets on the first Tuesday of each month at 7 a.m. at the Lawrence Chamber of Commerce offices, 646 Vt. Growing Lawrence meetings are free and open to the public.
Copyright 2018 The Lawrence Journal-World. All rights reserved. This material may not be published, broadcast, rewritten or redistributed. We strive to uphold our values for every story published.