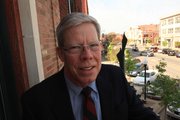 A new mayor may bring a dramatically new approach to how Lawrence seeks to offer incentives to companies looking to locate or expand in Lawrence.
If tradition holds, City Commissioner Bob Schumm is slated to be elected by his fellow city commissioners on Tuesday to serve a one-year term as mayor. Schumm was the top vote-winner in the last election and currently is the vice mayor, which puts him in line for the commission's top spot.
In an interview with the Journal-World, Schumm said he intends to use his one-year term to push for creation of a new economic development "consortium" made up of leaders from the city, the county, Kansas University and the Lawrence Chamber of Commerce. Unlike past advisory boards that have included such membership, Schumm said the new group would have decision-making authority — and ultimately its own checkbook.
"We have to be competitive," Schumm said. "We are not competitive right now in terms of the resources we can offer on the front end that a business needs to relocate."
Schumm stopped short of saying he would advocate for creation of a new sales tax that would be used to fund economic development activities. But other communities — Topeka is often cited as an example — have created sales taxes to fund quasi-independent economic development agencies.
"All I'm going to say at the moment is that the subject of how we can procure money to be competitive with our neighboring counties and cities definitely will come up," Schumm said.
Elected bodies, such as city and county commissions, are the only groups authorized by law to grant property tax abatements. But a tax abatement has become a less important mechanism in recruiting companies ever since the Kansas Legislature exempted business machinery and equipment from taxation.
Now, many communities are offering cash incentives for each new job created, or buying land on behalf of a company or offering other more direct incentives. Some communities have created and funded economic development agencies, which often have a mix of elected and nonelected officials, to make many of the decisions involved with such incentives.
Schumm said he, City Manager David Corliss, County Commissioner Nancy Thellman and County Administrator Craig Weinaug already have had meetings with the Chamber of Commerce about the creation of a new group.
Schumm said the idea of creating a new economic development consortium has been a joint one, with chamber officials first approaching the city and the county with the idea of adding new elements to the community's economic development efforts. Schumm said he expects the City Commission to begin having public discussions about the possibility of creating a new consortium in the next several weeks.
"I know it sounds like a canned speech, but jobs have to be first and foremost on the mind of the City Commission," Schumm said. "I think there are a lot of people who are underemployed in Lawrence and several who are unemployed. We need to move those folks upward."
On other issues, Schumm:
• Envisions discussions about a proposed public-private partnership to build a youth fieldhouse/recreation center to remain on a fast track. Schumm said he believes a new facility that could serve both local recreation center needs and attract youth tournaments to the city could be in place by 2013.
Schumm expressed optimism that the city and private developers could reach a financial agreement that would allow the project to move forward.
"This is a big, big opportunity for us," Schumm said. "I think it really will put Lawrence on the map as an exciting place to visit from all over the Midwest. We're going to get a lot of recognition out of it, and it will identify us as a first-class city."
• Believes more comprehensive planning for downtown would be beneficial. Schumm said a plan that spells out the type of development that should occur along New Hampshire and Vermont streets may help avoid contentious debates such as the one currently surrounding a proposed multistory hotel/apartment building at Ninth and New Hampshire streets. Schumm said such a plan should look at the future of city-owned surface parking lots.
"Those lots represent a lot of real estate in downtown," Schumm said. "I could see in some cases possibly allowing buildings on top of those as long as we didn't diminish the parking that is available."
• Expects the city to have significant discussions about building a new police headquarters building that would allow the entire police force to be stationed at one location. Currently, the department is split between the downtown Law Enforcement and Judicial Center, 111 E. 11th St., and the police investigations center near Bob Billings Parkway and Wakarusa Drive. Schumm said he hopes to identify the cost and potential location for the facility during the next 12 months.
• Plans on hearing large amounts of public comment about possible changes to the city trash system. Schumm said he believes the city is technologically behind many communities when it comes to picking up the trash. He said the mandated use of carts may be the way to cut down on workers' compensation claims made in the Solid Waste Department.
Schumm said a more controversial change may be mandating that all residents pay for curbside recycling services.
"But from what I've seen so far, the overall increase in fees looks like it could be very, very low," Schumm said. "I think it will be quite manageable. We need to bring our system up to where so many other communities are."
Schumm, who owns Buffalo Bob's Smokehouse, the Dynamite Saloon, and is a downtown landlord, will be serving his third stint as mayor. In April 1988, he was sworn in one day after the Jayhawks won the National Championship. He served one year term in 1988-89. Then in a rare break from tradition, commissioners elected him to serve a second year as mayor from 1989-1990.
Schumm will be replacing Aron Cromwell, who will maintain his seat on the five-member City Commission.
"I'm really looking forward to it," Schumm said. "I still think it is the best job in Lawrence."
Copyright 2018 The Lawrence Journal-World. All rights reserved. This material may not be published, broadcast, rewritten or redistributed. We strive to uphold our values for every story published.