Editor's note: This is part six in a series exploring various aspects of the local job market.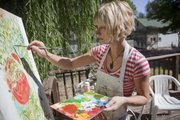 Shoppers at Shakespeare and Company, a renowned Paris book shop, have undoubtedly seen Lindsey Yankey's work. She illustrates banners and signs displayed at the shop, and she created a full-page ad for the store that was published in the New York Review of Books.
Yankey, a Lawrence resident, is part of a growing number of people who work for themselves. Some have chosen freelancing for its flexibility; others have been forced into it by a weak job market.
Before the recession, about one-third of U.S. workers were "contingently employed," according to a 2005 report from the Government Accountability Office. Since the recession, those numbers have increased.
The Kauffman Center estimates there are more entrepreneurs now than in anytime in U.S. history, and one 2009 study suggested that more than half the jobs generated during the recovery will be freelance positions.
In Douglas County, the number of freelancers has increased as well, said Will Katz, director of the Kansas University Small Business Development Center.
Of the 6,000 businesses registered in Douglas County, Katz estimates about 2,500 are freelancers.
Katz, who advises people on running freelance or small businesses, has seen an increase in people coming in after being laid off. For them, freelancing is a way to survive. Others, he said, are looking for a change.
"Like anything, it's a lifestyle choice," Katz said. "You probably work more hours, but there is a freedom there that many people like."
For Yankey, freelancing is one step toward what she hopes will be a career as a book illustrator.
"I know it won't happen tomorrow. It might not even happen in 10 years, but I'm working toward it," Yankey said.
To that end, she traveled to Italy last year for a conference in which illustrators mingle with European book publishers. She is going again this year, armed with mock-ups of several book pages.
"I don't have a book deal," she said, "but I have a better understanding of the business now."
A risk worth taking
Like anyone starting a business, quitting a job to freelance is a financial gamble. A 2000 report from the Government Accountability Office found that freelancers had a median income of $15,000.
Yankey said she doesn't yet make as much money as she had when she freelanced and worked as a page at the Lawrence Public Library, a job she quit in January.
Last year, Phil Martinez also took a chance on freelancing.
He was working as an mechanical engineer by day but had grown to love Web development.
"My hands were shaking when I turned in my resignation letter," he said.
Martinez now operates Philsquare, which has grown to include an additional full-time employee and one part-timer. He pays for his own insurance, and can't yet afford insurance for his full-time employee, though he would like to in the future.
Martinez said he has relied on his personal relationships to get work. He spent his early days scouring classified ads all over the country, picking up work and building a reputation. Sometimes he'd do jobs that didn't pay that well just to build his reputation or acquire a new skill. He saw it as an investment in his business.
Katz, of the KU Small Business Development Center, said freelancers must learn the difference between having a skill and persuading people to pay you for that skill.
"You aren't going to get on Twitter or Facebook and throw out a few blasts and get people to throw money at you," Katz said. But if people have a marketable skill, they can capitalize on it.
"That's not to say anyone could learn to love it," Katz said. "It's kind of like singing. I think almost anyone can learn to sing if they are willing to practice and willing to spend a lot of time at it. Does that mean everyone will be a good singer? I don't know."
The KU Small Business Development Center offers free counseling for those interested in starting a business. For more information, visit kusbdc.net.
This is part four in a Journal-World series about local employment. To see the other parts, click on the links below:
Part Three: Veterans looking for work
Part Four: Offenders face uphill job search battle
Copyright 2018 The Lawrence Journal-World. All rights reserved. This material may not be published, broadcast, rewritten or redistributed. We strive to uphold our values for every story published.