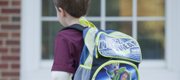 Subscribe to the email edition of First Bell and we'll deliver you the latest local education news and notes every weekday at noon.
Related document

Related document

The spirit squads at Free State and Lawrence high schools are looking to help youngsters cheer on football teams from the city's two public high schools next month.
The squads are conducting separate clinics Oct. 16, for kids to learn "a combination of chants, cheers and dance instruction" and to perform at a football game Oct. 21.
The Free State clinic is open to all children in preschool through sixth grade; at Lawrence High, it's for kids in preschool through seventh grade.
Both events are being marketed to "all children," with no mention of having to live on a particular side of Bob Billings Parkway. But in case anyone's wondering, high schoolers living north of the road attend Free State, while those residing to the south attend Lawrence High.
In any case, each clinic costs $30, and participants will receive a T-shirt and pompoms.
Details for each event:
• Little Lion Spirit Clinic, 1 p.m. to 3 p.m. (registration at 12:30 p.m.) Oct. 16 in the main gym at Lawrence High School, 1901 La. Walk-ins welcome, and limited partial scholarships are available. Participants will perform between the first and second quarters of the Lions' home game against Olathe Northwest. Contact: Gwen Wedd, 330-4728.
• Junior Firebirds Cheer Clinic, 3 p.m. to 5 p.m. (registration at 2:30 p.m.) Oct. 16 in the gym at Free State High School, 4700 Overland Drive. Walk-ins welcome. Participants will perform during the first half of the Firebirds' home game against Olathe North. Contact: Loralea Wood, lwood@usd497.org.
•••
Kids looking to step up their games to support the women's basketball program and team at Kansas University can apply to become Ball Hawks.
The Ball Hawks program — open to students in fourth, fifth and sixth grades — is for youngsters willing to help handle balls, sweep the floor and assist officials during KU home games.
Ball Hawks get a chance to be near the tunnel during the Jayhawks' entrance, join them on James Naismith Court during the national anthem, and then visit with the team after each game.
Three Ball Hawks work during each game. The application deadline is Oct. 14 for a limited number of spaces in the club.
From the application: "If you love the game of basketball, want to experience the tradition of KU basketball in Allen Fieldhouse and want to become a part of the exciting future of women's basketball, become a Ball Hawk!"
Again, this is for the women's basketball games. I don't know what the process is for men's games, but rest assured: This is a completely different group.
Questions? Email Amanda Leland, amleland@ku.edu.
Copyright 2018 The Lawrence Journal-World. All rights reserved. This material may not be published, broadcast, rewritten or redistributed. We strive to uphold our values for every story published.