Photo Gallery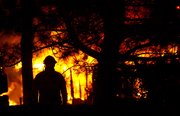 House Fire 1439 North 1900 Road
Crews respond to a fully-involved house fire at 1439 North 1900 Road on Thursday morning.
A rural Lawrence man escaped an early-morning fire Thursday that destroyed a house north of Lawrence.
"I'm OK. My dogs are OK. My boyfriend is OK. The important part is the lives," said Peggy Mersmann-Laptad, who came home and found fire had destroyed her house. "Yeah, I'll probably cry about the stuff (later)."
Mersmann-Laptad's boyfriend, Julian Dahl, escaped the home and was not injured.
Lawrence Douglas County Fire Medical and other township fire departments responded about 3:45 a.m. to the fire at 1439 N. 1900 Road, just west of U.S. Highway 24-59.
Division Chief Eve Tolefree said the man escaped without injury, and crews began a defensive attack from the outside because of the advanced stage of the flames. A brick chimney and a few burned walls were the only things standing Thursday morning.
Tom Tweddell of Lawrence stood outside the charred remains of his stepdaughter's home at 9 a.m. Mersmann-Laptad was at work when the fire started.
Mersmann-Laptad said Dahl was alerted after the couple's four Malamute dogs began barking on the porch. The dogs were not harmed, she said.
"If (the dogs) had been inside the house, they'd all be gone," she said.
For more than six years, Mersmann-Laptad has lived at the house, which was built in the 1950s. Her grandparents had lived there, and her great-grandfather had also owned the land in Grant Township. The family said the current house was built after an older house burned. Tweddell said a nearby barn built in the 1800s was not damaged in Thursday's fire.
As she viewed the damage Thursday morning, Mersmann-Laptad said discouragingly she was close to purchasing insurance on the home.
"Just now things were falling into place where I might have been able to afford it," she said. "But it was two paychecks away, and well, what do you do?"
According to Douglas County records, the residential property was appraised at $111,160.
Fire and Douglas County Sheriff's investigators were still trying to determine the cause of the fire Thursday. Sgt. Steve Lewis, a sheriff's spokesman, said the fire caused an estimated $130,000 in damage to the house and its contents.
Other firefighters who responded included volunteers from Kanwaka, Lecompton, Clinton, Eudora and Wakarusa townships. Jane Blocher, executive director of the Douglas County chapter of the American Red Cross, said the chapter would be providing hotel lodging and other assistance to the couple.
Copyright 2018 The Lawrence Journal-World. All rights reserved. This material may not be published, broadcast, rewritten or redistributed. We strive to uphold our values for every story published.