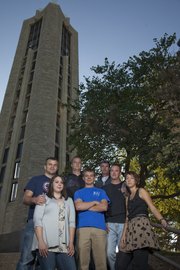 When Andrew Foster got out of the Navy a few years ago, his skills at working on a radar missile guidance system helped him land a California job for Starbucks fixing espresso machines.
The 28-year-old military veteran who had served all over the world, including an anti-terrorism and anti-piracy stint in the Persian Gulf, said he was fortunate to get into the civilian workforce at a time when it can be difficult for so many young veterans. But the transition from the military back into civilian life wasn't seamless.
"It's an entirely different set of standards and protocol and an entirely different structure as well," said Foster, who grew up in Derby and returned to Kansas University in 2008 just before his maintenance division at Starbucks was eliminated and outsourced.
Now he's among thousands of young military veterans across the country who have returned to college on the Post-9/11 GI Bill as a way to earn a degree and hone their skills amid a rough job market. With the national unemployment rate at 9.1 percent in August, the U.S. Bureau of Labor Statistics earlier this year estimated the jobless rate among all veterans who served since 9/11, including in Iraq and Afghanistan, was a couple points higher.
Those who work with veterans to find employment say it's a likely a result of the current job market and the difficult transition that veterans can face.
"With the market the way it is, employers can be a lot more selective," said Matt King, a veterans employment representative with the Lawrence Workforce Center.
Employers' incentives
King said the workforce center aims to help match veterans who have certain skills with jobs they are best qualified for. King said the center has also helped veterans gain extra job training for skills in certain areas and tries to educate businesses about tax credits or other training programs they can benefit from if they hire veterans.
The federal and state government offer preference to veterans when hiring, and federal contractors and even other private businesses often have plans where they reach out to veterans when hiring, said Shirley Martin-Smith, owner of the local Adecco staffing franchise and Martin-Smith Personnel Services in Lawrence. Martin-Smith said several ex-military members work for her.
"You can go to the bank on them. They're just great team players," she said.
Fred Shockey, commander of the Lawrence Veterans of Foreign Wars post, said he believed it has helped that President Barack Obama and first lady Michelle Obama have advocated for employers to hire veterans.
"It's a national approach, and it's a national issue," said Shockey, who served in the Army from 1992 to 2004. "People look at that and maybe they'll think, 'I'll give this veteran a second look.' It's always a positive."
But he said it can be difficult in the current economy with employers looking to hire workers with previous experience in specific fields, something that military veterans likely won't have because they've been serving in combat or some other setting.
King said one of the biggest obstacles for veterans seeking jobs is often translating skills they learned in the military and helping employers understand how those skills would help them in a civilian job.
"They have a lot of team leadership skills, and they're disciplined," King said.
The workforce center also aims to link up veterans to with training programs across the state, whether it's for a commercial driver's license or for maintenance on a wind turbine.
"We've got to get them the skills, and that's what it all boils down to," he said.
Transition to civilian life
Dozens of members of the Collegiate Veterans Association at KU find themselves in the same boat. Many have sought out a college degree after serving overseas, including in Iraq and Afghanistan, to earn an undergraduate degree and, they hope, give themselves a leg up years down the road.
"It's not for everybody, but it's helped out a lot of people," said Kyle Brown, the group's president in his final semester as a history major after serving as an Air Force reservist in Afghanistan in 2008.
Mike Denning, a retired Marine colonel who earlier this year became director of KU's Office of Professional Military Graduate Education, said when he retired as a senior officer he took advantage of a transition program that helped him network and prepare for his transition into civilian life. He was able to work in a consulting job on the East Coast before coming to KU.
Denning said in today's difficult job market, though, one of the best bets young veterans have is to use the GI Bill benefits to earn an undergraduate degree.
"That's the best thing they can do to prepare themselves for a bleak job market right now," Denning said.
Dustin Stumblingbear, 32, who retired as a specialist after serving two tours in Iraq with the Army National Guard, is working on his education degree at KU in hopes he can work as a social studies teacher.
"I'm trying to do what I can now to make myself a better candidate for hiring later on," said Stumblingbear, who suffered a mild traumatic brain injury in Iraq.
Even as he returned to class on a college campus, the environment was different. He struggled with the crowds on campus every day.
"Realizing I'm going to be fine," he said, "that was an event in and of itself."
Brown, the group's president who plans to return to the Air Force after earning his degree, said veterans often need to work with doctors on service-related issues, such as post-traumatic stress disorder, before they can fully adjust to entering the work force or heading back to school. But that makes things tough in a down economy because some veterans might badly need jobs.
"You've got to take care of that first," he said.
Sara Sneath, 25, a KU triple major and retired Marine corporal who served as a consulate guard all over the world, said she has gained some confidence knowing she took a nontraditional route to college. She said some of her friends who went straight to a university out of high school are still having trouble finding jobs because of the economy.
Sneath said she could find herself in the same boat once she graduates, but she's comfortable knowing that she can adjust.
"The good thing about being in the military is that you've established that you're capable of doing that," said Sneath, who also acknowledged she saved her money while she served.
Foster, the Navy veteran who plans to graduate from KU in December with a political science degree, has been working as an intern in the Kansas Adjutant General's Office helping communities respond to natural disasters. Foster said group members and area veterans do look out for one another and try to alert one another about job opportunities. He believes employers do see the benefit in hiring veterans.
"We're going to be committed to complete the job," Foster said. "Employers really, really appreciate that."
Copyright 2018 The Lawrence Journal-World. All rights reserved. This material may not be published, broadcast, rewritten or redistributed. We strive to uphold our values for every story published.