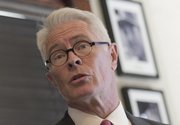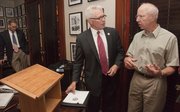 U.S. Attorney Barry Grissom showed members of the Lawrence Central Rotary Club on Wednesday a list of his office's top priorities.
First was stopping terrorism, and listed at number two: protecting people's civil rights.
"When you're fighting terrorism you've got to also make sure that you're not stepping on anyone's civil liberties," Grissom said at the club's meeting at The Eldridge, 701 Mass. "It's a real tough balancing act."
The top federal prosecutor in Kansas said his office had worked with the Islamic Center in Wichita on strategies for protecting Arab-Americans and Muslim-Americans. That relationship also could prove beneficial in terrorism investigations.
"That's a relationship that we've been working to nurture, and so far I think we've had a good relationship in that regard," said Grissom, a 1977 Kansas University graduate whom President Barack Obama appointed and the Senate confirmed to the post in 2010.
Grissom said Kansans often think of terrorism as an "East Coast or West Coast problem," but said terrorists in some of the most infamous attacks had a connection to the state. Jordanian Eyad Ismoil, the van driver in the 1993 World Trade Center bombing, was an engineering student at Wichita State University.
"We didn't even know he was in the country from a law enforcement standpoint in 1993," Grissom said. "Today we would know that."
And Oklahoma City bomber Timothy McVeigh and his co-defendant Terry Nichols conspired in Kansas before the attack on the Alfred P. Murrah Federal Building in 1995 that killed 168 people.
Grissom said since 9/11 federal, state and local law enforcement agencies have improved sharing of communication and intelligence with one another and look out for suspicious people. He said agencies are still concerned about a "lone wolf" attack in which one person carries a bomb or other weapons into a heavily populated public place, such as a sports stadium.
"Now we have to try and be there before the crime to take the steps necessary so the crime doesn't happen," he said.
Grissom also discussed other topics Wednesday.
• He is hosting a prescription drug summit Thursday at KU Medical Center in Kansas City, Kan., among physicians, nurses, pharmacists and law enforcement officers to discuss how to best combat illegal use and misuse of prescription drugs.
"The use of heroin is on the increase because we have an epidemic in this country of people who are now illegally using prescription drugs," he said.
Grissom advised people to properly dispose of old prescription drugs that contain Oxycontin, for example, to keep it from falling into the hands of teenagers. The Douglas County Sheriff's Office will play host to another prescription drug take-back day for the public with a collection site from 10 a.m. to 2 p.m. Oct. 29 in the courthouse parking lot, 1100 Mass. Officers will turn over to the Drug Enforcement Administration all prescription drugs collected.
• Grissom also said his office did not expect to file any more charges in connection with five-year ticket-stealing scheme that cost Kansas Athletics Inc. at least $2 million. Four former athletic officials and one consultant all pleaded guilty and were sentenced to serve federal prison terms.
Copyright 2018 The Lawrence Journal-World. All rights reserved. This material may not be published, broadcast, rewritten or redistributed. We strive to uphold our values for every story published.