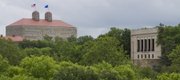 Subscribe to the email edition of Heard on the Hill and we'll deliver you the latest KU news and notes every weekday at noon.
Your daily dose of news, notes and links from around Kansas University.
• Thanks to a tipster who pointed that KU gets a mention — although not an altogether flattering one — in a feature of The Atlantic magazine called "What's Your Problem?"
One reader's problem, apparently, had to do with choosing one of four male friends as a sperm donor. They all had relatively similar attributes, but one went to Harvard, one went to Columbia, one went to Duke and one went to KU.
(This almost reads like the beginning of a really awful joke).
"I assume their undergraduate choices had to do with their SAT scores (I don't know how they did on standardized testing, and I think it might be rude to ask), so those choices do seem pertinent," writes D.S., who (unsurprisingly) hails from New York City.
She wants to know how to weigh these options, and whether to go with KU, which D.S. describes as a "second-rate state school."
The person who answers these questions over at The Atlantic comes up with quite a suggestion for how to rectify this dilemma that I think you'll just have to go read for yourself.
The rather strange exchange comes after KU snagged a pretty nice mention in another East Coast magazine I wrote about yesterday.
• The University Daily Kansan recently caught up with Matthew Smith, KU's new director of athletic bands and interim associate director of bands.
One change Smith has already made, according to the newspaper, is that the Marching Jayhawks are performing a different halftime show during each home KU football game this year.
Smith comes to KU from the Indiana University, according to his biography page at the KU School of Music.
There, he was assistant director of bands, and conducted the concert band, taught undergraduate instrumental conducting and assisted with the Marching Hundred.
He also directed the Cyclone Marching Band at Iowa State University for eight years.
Smith replaces David Clemmer, who announced he was leaving KU in April to pursue a doctorate.
• KU officials marked the opening of a new Bioscience and Techonology Business Center on the KU Medical Center campus on Tuesday.
The building, at 2002 W. 39th Ave. in Kansas City, Kan., has about 30,000 square feet of office and wet lab space, and it's already home to three bioscience companies.
The incubator space joins two other buildings in Lawrence — the BTBC Main Facility and the BTBC Expansion Facility — which combines for 60,000 square feet and 12 tenants.
To fund the $6 million renovation of Breidenthal Hall to house the new BTBC project at KUMC, the U.S. Department of Commerce contributed $3 million, the Kansas Bioscience Authority contributed $2 million and KU contributed $1 million.
• Submit your tips for Heard on the Hill to ahyland@ljworld.com.
Copyright 2018 The Lawrence Journal-World. All rights reserved. This material may not be published, broadcast, rewritten or redistributed. We strive to uphold our values for every story published.