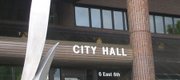 Subscribe to the email edition of Town Talk and we'll deliver you the latest city news and notes every weekday at noon.
News and notes from around Lawrence and Douglas County:
• Whopper fans, let your hearts rest easy. (Actually, if you are a fan of a Whopper on a regular basis, you might want to get them checked.) Burger King indeed is building a new restaurant along Sixth Street in northwest Lawrence. In fact — coincidentally, I'm sure — it is kind of in front of Free State High School where hundreds of kids each day are released over lunch hour to roam in what has become the city's largest outdoor food court. (I wonder what the economic impact of the school district's lunch policy is in Lawrence.) The restaurant is set to locate on the northeast corner of Sixth Street and Champion Lane. If you are having a hard time picturing that location, it is the main entrance into the Bauer Farm Development that includes CVS, SmashBurger, Taco Bell and other establishments. But Burger King will be farther east than all of those. It will be the first restaurant in the development that is east of Champion Lane. We reported back in February that Burger King had signed a deal to build on the site, and then there was a whole bunch of nothing. But now dirt is being moved on the site, and the good folks at the city's building inspections department confirmed that Burger King has pulled a building permit to start construction on the restaurant. No word on when it may open, but I would expect for the project to take six months or so.
• I'll beat some of the commenters to the punch here and bring up the issue of the special taxing district that exists in that area. First, I'm not sure the Burger King is part of the special taxing district that charges an extra 1 percent sales tax in the area. But I think it is. (Then again, my wife tells me all the time I don't need to think. She'll do that for me.) But based on the map that is part of this plan, I think it is in. There has been a lot of discussion about these taxing districts, so I thought this might be a good time to clear up a couple of things. I get comments somewhat regularly about how many special taxing districts have sprung up in Lawrence. Actually, there are only two. This one and the one that covers The Oread. What you're probably thinking of is there has been a lot of discussion about adding other ones — with the area near 23rd and Ousdahl streets topping the list.
Also, there has been a lot of discussion about how these special taxes can be used by the developer to pay for almost anything — to build a building, to hire security guards, to do marketing. That is true with one type of special tax, called a Community Improvement District tax. But Lawrence doesn't have any of those — yet. Instead, the two that we have are called Transportation Development District taxes. Those special taxes only can be used to help pay for streets, sidewalks and other transportation-related type of infrastructure that usually ends up being owned by the city but paid for by the developer. In this case, the developers of the Bauer Farm area are expecting to generate $4.6 million in special taxes over the course of 22 years that would reduce how much they have to pay for streets and such. Developers would pay for the rest of the costs, and I found these numbers as I was digging around for a map. They're kind of interesting because you don't often get to see the specific numbers for a private development, but city officials required the developers to submit them when the city approved this special taxing district in 2008. According to the plan, acquiring the property along Sixth Street cost $2.8 million, building roads, sidewalks and other site improvements cost $13.6 million (this is the category where the developer's cost will be reduced by $4.6 million courtesy of the special taxes), constructing the buildings cost $41.8 million, and paying for various professional services required for the project cost $2.8 million. That's a total of $61.1 million, with $56.5 coming from the developer and $4.6 coming from the special tax over the course of 22 years.
I know, none of this matters to some of you. It is a new tax and you don't like it.
• Speaking of building permits (remember, we mentioned one earlier), new numbers are out for the month of August. The numbers show building activity picked up a bit during the month. The city issued 14 single-family building permits in August, which believe it or not made it the second busiest month of the year when it came to building new homes in Lawrence. For the entire year, however, builders are still behind last year's pace. The city has issued permits for 80 single-family or duplex units through the first eight months of this year. During the first eight months of 2010, they had issued 105. For those of you without one of those fancy, high-tech watch calculators (those are still in style, right), that's a 23 percent decline in home building activity. And just to keep up my persona as a ray of sunshine, I'll remind you that last year was considered a bad year for the home building industry. Overall, the total amount of projects — including commercial projects, remodeling projects, public projects — is doing a better job of keeping up with last year's pace. The city has issued permits for $62 million worth of projects thus far. That's down slightly from the $64.2 million during the same time period a year ago. (That's right. Slightly. I'm not going to give you a percentage. Buy your own calculator watch.)
• Who said neighborhood pride was on the decline in Lawrence? (It was you, wasn't it?) Well, if you are in the Hillcrest Neighborhood near KU, you'll need to eat those words. The Hillcrest Neighborhood Association wants to install a sign at the intersection of Ninth Street and Highland Drive. It will say "Welcome to the Hillcrest Neighborhood." The sign will include landscaping with perennials, shrubs and a short-stacked rock wall. City commissioners at their meeting tonight are scheduled to approve the sign and allow city right-of-way to be used for the project.
Copyright 2018 The Lawrence Journal-World. All rights reserved. This material may not be published, broadcast, rewritten or redistributed. We strive to uphold our values for every story published.