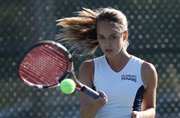 Seabury Academy's girls tennis team lost its first match of the season, a 6-4 setback to Kansas City Christian on Monday at the Jayhawk Tennis Facility.
Despite the tough matches, Seabury coach John Richey spoke in an encouraging tone when giving advice to his players during changeovers.
"It's not Wimbledon," Richey said.
Alicia Cotsoradis, Leah Spreckelmeyer and Emilie Padgett registered singles victories for the Seahawks. Padgett won two singles matches by scores of 8-2 and 8-1. Spreckelmeyer had no trouble in an 8-4 victory, while Cotsoradis won a close battle, 8-7(4).
Richey said he wanted tennis to be fun and fair for everyone, which is why he isn't constantly harping on the players.
The results are working.
"It's a better a better atmosphere to see itself that way — a team that's rooting for each other and supporting each other," Richey said. "They feel like they can have success when their teammates do well."
Juniors Padget Sutherland and Raquel Dominguez have been the top performers and leaders this season, while sophomore Cotsoradis has stepped up into that role as well. It goes a lot further than earning victories on the tennis court.
"They've done a good job of working with the younger girls and bringing them along to give us a complete team that can go compete with some of these bigger schools," Richey said.
Seabury's next meet is 3 p.m. today at Topeka Hayden.
Copyright 2018 The Lawrence Journal-World. All rights reserved. This material may not be published, broadcast, rewritten or redistributed. We strive to uphold our values for every story published.