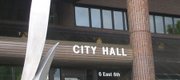 Subscribe to the email edition of Town Talk and we'll deliver you the latest city news and notes every weekday at noon.
News and notes from around Lawrence and Douglas County:
• We had an article last week that suggested the 2000s may have been the decade of the renter in Lawrence. Well, it looks like they are working to win this new decade as well. Just off the top of my head, I can think of six apartment projects that are either under construction or in the works right now: two corners of Ninth and New Hampshire; Sixth and Queens Road; the old Varsity House location in the Oread neighborhood; Northwind Apartments on North Michigan Street; and the Crossgate Casitas south of Clinton Parkway and Crossgate Drive. Now, you can add one more to the list, and it is near that Clinton Parkway and Crossgate Drive intersection. A local development group has filed plans to expand the existing Remington Square apartment complex along Clinton Parkway between Crossgate and Inverness. The group — led by Lawrence builder Tim Stultz — plans to add 136 new apartment units at the site, which will be just west of a new Hy-Vee convenience store that is proposed for the southwest corner of Clinton Parkway and Crossgate. This project, I believe, has all the zoning it needs to move forward.(UPDATE: Actually, the project doesn't have all the zoning it needs. The site is zoned for apartments but this development would require density designation. So, the bottomline is that city commissioners will have to approve a zoning change in order for this project to move forward as planned.) Neighbors near the large stretch of land between Crossgate and Inverness have expressed concerns to city commissioners that too many apartments have been allowed to develop in that area. City commissioners have responded by changing the long range plan that shows how that area may develop. Previously, that plan allowed the option of apartments developing at the intersections of both Crossgate and Inverness. Now, the plan allows for some neighborhood commercial to develop at both intersections. Hy-Vee's convenience store already has spoken for the Crossgate corner. Walgreens once was interested in the Crossgate corner, but that was before city leaders changed the plans to allow for commercial development in the area. It will be interesting to see what ends up at the Inverness corner.
• Poor Iowa Street. It must feel like the Big 12 Conference — constantly in need of repair and often getting run over. The stretch of Iowa Street from Yale Road to the Irving Hill Overpass is scheduled to completely be rebuilt in 2013. But the road is having a hard time holding out that long. The city did an emergency repaving of that stretch last year, and now it looks like they'll have to do some emergency paving work again. The northbound lanes of Iowa Street from Bob Billings Parkway to about 500 feet south of the intersection are experiencing significant deformation and distress. (A good motto for the Big 12 — leading college athletics in deformation and distress.) Even though that stretch was paved in March 2010, the base of the road is shot, and as a result, the pavement is subject to fail as quickly as at Texas/Texas A&M; family reunion. City commissioners are expected to approve an unplanned expenditure of $25,000 from the city's infrastructure sales tax to repave the two northbound lanes. Look for the project to begin in a few weeks.
• Motorists who drive to Kansas University's campus may also see some roadwork in the next few weeks. The city and Kansas University plan to team up on a project to repave West 14th Street from Tennessee Street to Jayhawk Boulevard. The city and university plan to equally split the estimated $50,000 in costs. The work is scheduled to be done over KU's Fall Break, from Oct. 8 to Oct. 11.
• We'll soon find out whether the city looks pretty in pink. Lawrence Memorial Hospital is once again asking for permission to tie pink ribbons around the lamp posts on Massachusetts Street from Sixth to 11th streets and on Clinton Parkway from Iowa to Kasold. The ribbons are meant to raise awareness of National Breast Cancer Awareness Month. The ribbons are expected to be up throughout the month of October, which is a good idea since October is National Breast Cancer Awareness Month. (It is that type of planning that has made LMH one of the most successful businesses in Lawrence.) LMH has done the ribbons for the last three years, but as we previously reported, there is a new event coming that will benefit breast cancer awareness. The hospital has confirmed that from 5 p.m. to 9 p.m. on Oct. 13 it will team up with Downtown Lawrence Inc. to host Girl's Night Downtown. The event will allow shoppers to purchase a $20 ticket, which will entitle them to receive special discounts and deals at participating merchants. The proceeds will benefit LMH's Mario's Closet, which is a special boutique at LMH that provides a variety of free or low-cost items for cancer patients. I suspect the event also will "benefit" my wife's closet, which includes nothing that is free or low cost.
Copyright 2018 The Lawrence Journal-World. All rights reserved. This material may not be published, broadcast, rewritten or redistributed. We strive to uphold our values for every story published.