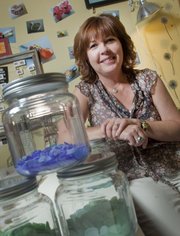 Julie Branstrom's varied life experience, creativity and willingness to attempt new things prepared her for the challenging and fulfilling role of Douglas County Dental Clinic's executive director.
"My job requires me to be a jack-of-all trades," she says. "We're a small enough organization that I feel I often wear lots of different hats each day and haven't enough time to become an expert in anything."
Born in Redwood City, Calif., in 1968, Branstrom loved being outdoors, riding her Plomino pony, boating, water-skiing and having adventures in her backyard creek.

"I loved creating art and collected stones and other treasures. Mom couldn't persuade me to throw them away," she says. "I wanted to study art at college but struggled and worried about not being good enough to be a successful artist and make a living from it."
An elementary school teacher who knew Branstrom's aspirations invited her to be a guest teacher for her fourth-grade watercolor class. That experience, coupled with her love for children, led her to become a teacher.
Branstrom attended San Francisco State University, married a family friend Craig, a Kansas University All-American decathlete, in 1990, then graduated with a Bachelor of Arts in early childhood education in 1991 a month before the birth of the first of her two children.
"That kept me pretty busy," she says.
In 1993 Branstrom became a part-time team leader for Hallmark's Californian installation and remodeling teams, was later promoted to key account executive and moved to Lawrence in 1994 when Craig accepted a paramedic position in Johnson County.
In 2004 Hallmark made big changes and gave her new responsibilities at the Kansas City corporate office.
"The year was difficult. I didn't love the new job, liked the commute even less and left Hallmark in January 2005," she says. "I tried to think outside the box about what to do next. I was making and selling jewelry from my home studio and loved every minute of it but knew it wouldn't pay the bills."
Branstrom enjoyed working with her hands and was interested in dental care. When DCDC advertised a dental assistant position a few weeks later, she sent her resume, explained she was truly interested in doing something different and was motivated to learn. She was encouraged to apply instead for the upcoming executive director position, interviewed with other candidates and was offered the job in March 2005.
"I love what I do. It's rewarding and challenging," she says.
"I work with an amazing group of talented and caring individuals who are committed to increasing access to dental care for the underserved as well as holding special events like 'Give Kids a Smile' and 'Free Dental' days. It's hard and stressful to see our community's vast dental needs and feel we can't meet them all."
Branstrom's creativity helps her control stress and keeps her life balanced.
"My introverted personality requires me to have time alone to recharge my batteries," she says. "During stressful times my favorite thing to do is to hide in my studio and create and make things with my hands."
Copyright 2018 The Lawrence Journal-World. All rights reserved. This material may not be published, broadcast, rewritten or redistributed. We strive to uphold our values for every story published.