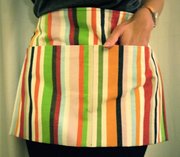 I love aprons, and I don't care who knows it. This week, I designed a utility apron that's shorter with large pockets. I would use mine for gardening, to hold tools and screws or nails while working on a project around the house or to hold change at a garage sale.
Supplies
1 yard of fabric
scissors
ruler
iron
straight pins
thread
sewing machine
Instructions
Cut two rectangles the width of the fabric, which is usually about 44 inches: one 21 inches across and the other 4 inches across. Then cut the 4-inch rectangle in half so there are two pieces 4 inches by 22 inches. These are the apron ties.

Take the first apron tie piece and fold it in half lengthwise, wrong sides together, and press. Then fold the long raw edges in to meet at the crease and press. Fold one short end in 1/2 inch and press. Fold the piece in half lengthwise along the original crease and press. You should have a rectangle 1 inch by 21.5 inches. Sew with a 1/4-inch seam along the folded-in short edge and then along the length of the rectangle on the edge opposite the crease. Repeat with the other tie piece.

Fold the large rectangle in half widthwise, right sides together, making a rectangle 21 inches by 22 inches. Press a crease along the folded edge. Place the tie pieces half an inch down from the top of the short edge, with the raw edges aligned and the ties on the inside of the folded rectangle. Pin in place.

Sew with a 1/2-inch seam along the cut edges, leaving a gap about 6 inches wide in the center of the end opposite the crease for turning right side out. Clip off a triangle of fabric at each corner without cutting the stitching, then turn right side out and press.

The ties will be at the top of the rectangle. Fold up the bottom edge 9 inches and press. Pin in place.

Sew up one side, across the top — this closes the turning gap — and down the other side. There is now one big pocket. You can leave it as one or divide it into two or more pockets by stitching a line from the bottom of the apron to the top of the pocket.
Copyright 2017 The Lawrence Journal-World. All rights reserved. This material may not be published, broadcast, rewritten or redistributed. We strive to uphold our values for every story published.