Fashion Week is over, but in New York City, there is always fashion to be had. During my visit, I received an invitation to visit the workplace of American fashion designer Ralph Lauren, and I jumped at the opportunity.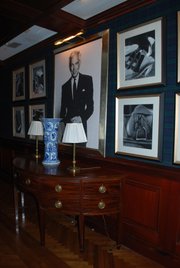 After two security checkpoints and much scrutiny of my Kansas ID, I finally met the receptionist. Luckily, I had plenty to look at while I waited for my friend, Sarah Bruchmann, womenswear designer for Polo Ralph Lauren.
The décor at 650 Madison is exactly as expected, very old-school. Spaces are filled with luxury leather couches, expensive wallpaper, antique coffee tables and gold-framed, heirloom paintings; hallways are lined with pictures of hunting dogs, horses, polo players and of course, the man himself — Ralph Lauren.
Everywhere around the office spaces there are plaid couches, plaid curtains, plaid table runners, plaid armchairs … plaid on plaid on plaid on plaid.
After Sarah greeted me in the lobby, she gave me a tour of the Ralph Lauren office building, which encompasses over four floors at the Madison Avenue location alone. With so many divisions within the large company, space truly was a commodity.
Downstairs from the main entryway, I met members of the design and textile departments. Sarah guided me through rows and rows of yarn — part of the knitwear division — and we navigated through racks of old clothing and accessories, whose homes encompassed every spare nook and cranny of the building. Many of the clothes were old Ralph Lauren designs as well as pieces collected as inspiration from various shops and closets. I passed a board with photographs of each look for this past Fashion Week, Ralph Lauren Spring 2012, as well as a row of partially covered coats and jackets labeled "Fall 2013" — a sneak peek!
Upstairs, we visited a few other offices, including the color lab, where a light box is installed in order to correctly identify and match colors in the proper "Ralph Lauren" light. I was introduced to former "Project Runway" runnerup Jillian Lewis, who was working on a new inspiration board for an upcoming collection. Magazine clippings, photos, old sleds, sweaters, dried flowers, hats, worn jeans, supple leather — you name it; all of these items could be found on the board.
As we made our way to Sarah's own cramped office, where she and three other designers work, we met several more members of the Ralph Lauren family. One man's job was to pick out the hardware, buttons and snaps for Polo Womenswear designs; one woman's job was designing denim, and she was literally surrounded by piles and piles of jeans up to the ceiling and all over her desk. (I told her that this is what my room looks like, so I felt at home here.)
As I rode down the elevator to exit Ralph Lauren, I was amazed at how many intricate, important jobs were required to run a large fashion house successfully.
Hmm. I think now I get it. To use the words of one Ralph Lauren employee in particular, he was right: This is the fashion sausage.
Copyright 2018 The Lawrence Journal-World. All rights reserved. This material may not be published, broadcast, rewritten or redistributed. We strive to uphold our values for every story published.