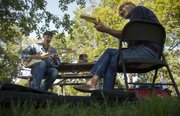 People usually choose spring and fall to clean up around their house. They wash windows for a better view or rake up leaves to clear the lawn. As a photographer, I clean up year-round.
No matter what situation or subject I find myself photographing, one of the steps to capturing a better photograph, is removing clutter from the scene. I thought I had a nice scene recently when I spotted two musicians playing guitar in South Park. I grabbed two cameras from my car, one with a wide-angle lens and one with a telephoto lens and introduced myself to the guitar pickers.
While they rambled through some blues and a rendition of "Stand By Me," I backed off to start framing up photographs. Typically, I begin with a straight-forward shot just to get something in my camera.
I do this for two reasons. First, I want to get something shot before there's any chance the activity will end, leaving me empty-handed. Secondly, getting the initial frame in my camera gives me a sample exposure of the scene. If I'm off on my lighting I can quickly adjust. These first shots are usually not very interesting. Finding the best compositions requires moving around.
I circled the musicians and continued to photograph with both wide and telephoto lenses, but nothing looked good. There were cars in the background or the bright sunlight was too distracting beyond the shade-covered subjects. I couldn't seem to make a visually interesting image. After making several rounds I decided to stand on a picnic table and shoot down on the jam session. This was better. It eliminated cars and the lighting was even, but it showed mostly tops of heads. Boring.
I tried moving in close and shooting over one musicians shoulder, framing on the second player. It was less cluttered, but it turned the image into a one-man band. Eventually I sat on the grass in front of them and laid my camera with the wide-angle lens on the ground and aimed up.
Because I could not see through my viewfinder, I would take several shots and then review on my camera's monitor. Finally — a clean angle. It eliminated all the clutter of the rest of the park, the cars, even the distracting items on top of the picnic table. What remained were two musicians framed against a backdrop of leaves. It certainly wasn't an award-winning image but after some work I was successuful at improving the image with some major clean-up. It beats washing windows.
Copyright 2017 The Lawrence Journal-World. All rights reserved. This material may not be published, broadcast, rewritten or redistributed. We strive to uphold our values for every story published.