A Penny's Concrete truck was overturned about 7:30 a.m. today at 31st and Iowa streets. The one-vehicle accident happened in the westbound lane of 31st Street.
There was an ambulance at the scene, but no one was transported.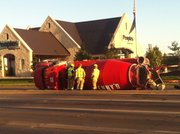 Copyright 2018 The Lawrence Journal-World. All rights reserved. This material may not be published, broadcast, rewritten or redistributed. We strive to uphold our values for every story published.