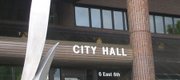 Subscribe to the email edition of Town Talk and we'll deliver you the latest city news and notes every weekday at noon.
News and notes from around town:
• Look for one of the city's larger Montessori schools to get even larger soon. Officials with Raintree Montessori have filed plans at Lawrence City Hall to undertake a $1.5 million expansion of their facility at 4601 Clinton Parkway. Lleanna McReynolds, head of school at Raintree, told me that the expansion will involve adding two new classrooms and a large meeting room that also will be used to house the school's music program. McReynolds said the classrooms will be used to serve more toddlers The space likely will allow the school to add 20 to 30 more toddlers to its enrollment, and it also may allow the school to take on slightly younger children than it does today. Currently, enrollment at the school is for children 18 months through sixth grade. McReynolds said the school now may begin accepting children as young as age 12 months. For those of you familiar with the Raintree site, the expansion will be on the east end of the main building, and will involve adding three new levels. McReynolds expects the construction to be completed by next fall.
• If you haven't picked up on this already, pre-school/daycare is becoming one of the more active growth areas in the Lawrence economy. Earlier this week we told you about a fairly significant expansion of the Building Blocks learning center, and I'm sure there have been others. But one that may have fallen off your radar is a multi-million dollar project that the Ballard Center hopes to undertake. As we reported back in late 2010, Ballard has plans to build a $3.9 million early-childhood education center at 345 Fla. Although the project hasn't broken ground yet, Ballard president and CEO Dianne Ensminger told me that it is still very much moving forward. But timing for the project — which once hoped for an opening in August 2012 — has been difficult to predict because Ballard officials have decided not to do a local capital campaign for the project. Instead, Ballard leaders are hoping that the center's ultra-high-tech environmental design makes it an attractive project for environmental organizations that are looking for a project to fund. The building is being designed as LEED Platinum certified facility, which could make it the most environmentally-friendly childhood education center in the nation. The building will be designed to allow children to see it inner workings — everything from the 29 wells that would power a geothermal heating system to see-through pipes that will collect rainwater off the roof.
The project would be built on the site of a former drug and alcohol treatment facility run by DCCCA. Ballard had planned to renovate the building, but those plans changed in January 2009 when a fire sprinkler system malfunctioned and flooded the building just days before work would have begun. The flooding was so severe that the saturated ground beneath the building caused the structure to sink about six inches. The center is being dubbed The Petey Cerf Early Education Center for Children and Families, named after the late philanthropist who helped found the Ballard Center. The center will be open to all children up to age 5, but Ensminger said an emphasis will be placed on serving infants. Ballard also has worked out a partnership with Lawrence Memorial Hospital for the new center to serve as a pre-school/daycare facility for the children of LMH employees.
• The Ballard Center apparently has worked out a partnership with the LMH cardiac unit as well. Perhaps the center is getting paid a commission this weekend, because Ballard is doing its best to raise everyone's cholesterol with an event at South Park on Saturday. The Ballard B3 event will begin at 6 p.m. on Saturday, and one the B's definitely stands for barbecue. Four competitive barbecue teams from around the Midwest will be providing huge quantities of barbecue. Fortunately, one of the other B's stands for brews, as in beer. I don't know what they taught you at the medical school you went to, but what I learned is that beer blocks cholesterol (and incessant chatter by your wife). There will be seven craft brewers from the region and also from as far away as Minnesota providing beer at the event. The third B stands for blues, and this one just makes me feel old. Josh Vowell & The Rumble will be the headline band of the evening. Why does that make me feel old? Well, Josh is my cousin, and I guess I have to admit quite a bit younger cousin. In fact, I've never heard him play before. I just remember him playing with his peas at Thanksgiving. Anyway, I'm sure beer and barbecue will help me feel young again. Tickets for the event — which is a fundraiser for the non-profit Ballard Center — are still available. I'm told there are a just a handful of VIP tickets remaining, which come with unlimited barbecue and drinks. They must be purchased prior to the event at www.ballardb3.org. General admission tickets — which get you large amounts of beer and barbecue — are available at the gate for $35.
• It has been a busy couple of weeks for South Park. Last weekend, the park hosted about 2,000 bicyclists as part of a fundraising event by the Mid-America chapter of the Multiple Sclerosis Society. The event, which had riders coming from both Kansas City and Topeka, used Lawrence's South Park as an overnight stopping spot. Evidently, the idea of staying in Lawrence was a popular one. Event officials report that the number of bikers participating in the event was up by 300 from last year's event, and proceeds from the event are up by 10 percent from a year ago. The event is expected to raise about $1.3 million for the MS chapter. But that's not the number that really surprised me. Instead, what surprised me is that event organizers estimated that there were $1.8 million worth of bikes parked in the Community Building's parking lot as part of this event. That pencils out to about $900 a bike, if you were wondering. No word yet on how much the event did for the local economy, but the local CVB reports that the event had contracts with 13 local businesses to provide direct services to the site. Those businesses included everything from security personnel to portable toilets to a host of restaurants and a local band. Local masseuses even were hired for one of the team tents in the park. Wow. All I know is that for the price of some of those bikes, I would expect a masseuse to come with it.
Copyright 2018 The Lawrence Journal-World. All rights reserved. This material may not be published, broadcast, rewritten or redistributed. We strive to uphold our values for every story published.