As Capt. Erik Holland has been in training sessions this week at a regional conference in Lawrence, he's learned things from FBI academy instructors and others about everything from budget issues to tactical strategies.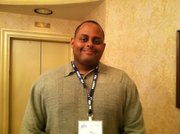 "Even if I had some initial education on it, they took it to the next level," said Holland, who commands the Platte County (Mo.) Sheriff's administrative division.
Holland said he plans to use the training he's learned back in his department after he graduates today with 32 other officers from the Central States Law Enforcement Executive Development Seminar. The week-long seminar has been in Lawrence for 21 years and is aimed at giving police administrators at smaller law enforcement agencies the opportunity to participate in the training instead of attending the original two-week school in Quantico, Va., said Lawrence police Capt. Mike Pattrick.
The Lawrence department plays host to the Central States seminar in partnership with the FBI and Kansas University Public Safety Office. The 33 officers who participated this week came from departments in Kansas, Missouri and Nebraska. Patrol Capt. Jim Martin is representing the Lawrence department in the class.
Retired Lawrence Police Chief Ron Olin taught one session earlier in the week about trends in law enforcement, and the officers also learned from FBI-level instructors about topics from applying for federal grants to legal issues and ethics to crisis negotiating and responding to a situation involving weapons of mass destruction.
Pattrick said the training on WMD responses taught officers whom they should contact from the federal government and what outside agencies would need once they get there.
"Obviously since 9/11 everybody is very concerned about what the possibilities could be for that," said Pattrick, who commands the Lawrence department's investigations division. "And there are real threats to the United States all the time. We have to be very vigilant and be prepared if that were ever to occur."
The officers on Thursday learned about how to make effective grant applications because many cities and counties are struggling because of the economy, and agencies are often looking for outside funds to help, Pattrick said. But for smaller departments it can often be daunting to apply for a grant.
"Platte County has experienced the same economic problems that everyone has around here," Holland said. "Like everybody else we're doing our best to do more with less and try to take advantage of opportunities to do things more efficiently and effectively and get funding sources where they're available."
Copyright 2018 The Lawrence Journal-World. All rights reserved. This material may not be published, broadcast, rewritten or redistributed. We strive to uphold our values for every story published.