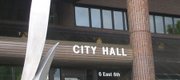 Subscribe to the email edition of Town Talk and we'll deliver you the latest city news and notes every weekday at noon.
News and notes from around town:
• Look for an episode of This Old House to play out soon at Lawrence City Hall. (No guarantees, but maybe commissioners will wear Norm Abram-style flannel.) At issue is whether an old house in the Oread Neighborhood ought to be moved a few dozen feet to make way for a new apartment complex. As we previously have reported, a development group led by Thomas Fritzel has filed plans to add about 50 units of apartments at 1043 Ind. But there is a catch. The development group says it needs to move the old Varsity House, a 1908 Dutch-Colonial Revival style home, in order to make the project work. Last week, the city's Historic Resources Commission disagreed. Moving the house a bit farther north down the block would change the "historic environs" of the area, the group decided on a 5-2 vote. Local architect Paul Werner confirmed to me Tuesday night that the development group will appeal the decision to the Lawrence City Commission. There are two interesting issues here. (Well, not Tommy Silva showing us how to mud drywall type of interesting, but interesting nonetheless.) One, is the history of the house. In addition to it being old, it has a neat story. It is called the Varsity house because it once was used by KU to house the varsity football players. (Insert your own joke here.) But its more significant history is related to its designer, Harriet Tanner. It was unusual for a women to be in the business of designing houses in the early 1900s, but she ended up designing and financing about a dozen homes for KU professors. The activity must have had an impact on her son Edward Tanner because he went on to become an architect and the chief designer for the famed Country Club Plaza in Kansas City. But the second interesting angle here is the planned apartment complex. The approximately 50-unit development would be a first-of-its-kind for Oread because it would provide underground parking for its residents. The issue of inadequate off-street parking in Oread is older than Bob Vila's mustache, and this development is trying to prove that there is a feasible way to address that in some cases. My understanding is that the neighbors have not been particularly opposed to this project. Instead, the concern has come from the Lawrence Preservation Alliance over the moving of the house. Developers originally had proposed to tear the house down (although the Historic Resources Commission could block that too, I'm told by city staff). Now, city commissioners will be asked to decide whether there is a "feasible and prudent" alternative to moving the house. (I think the people who make historic preservation law just like to watch me sit through long meetings. Can you think of two words that have more subjectivity built into them than feasible and prudent?) Anyway, no word yet on when that debate will go before city commissioners.
• If you're like me (and if you are, then I'll have my wife come over and yell at you), you've been thinking about compost lately. As in when is the city (not city commissioners mind you) going to offer up some compost? Well, the answer is later than normal. I've gotten word that the excessive heat and dry weather over the summer caused the city's composting process to go slower than normal. But the city now has set dates for the popular sale. It will be from 8 a.m. to 3 p.m. on Oct. 20 and Oct. 21 (a Thursday and a Friday), and from 8 a.m. to 4 p.m. on Oct. 22, a Saturday. (The city often runs out before 4 p.m.) The city sells the compost — which breaks down from the leaves and grass clippings the city picks up each week — for $10 a truck load. The sale is at the city's mulch and compost lot at 1420 E. 11th St., which is just east of 11th and Haskell.
• I also have mulch on my mind a lot. (It is a lot of fun to be me.) According to the Parks and Recreation Department's web site, their woodchip sale is coming up. It is set from 8 a.m. to 3 p.m. on Oct 6 and Oct. 7 ( a Thursday and a Friday) and from 8 a.m. to 4 p.m. on Oct. 8, a Saturday. It also sells for $10 per pickup load. It, too, is at 1420 E. 11th St. — the No. 1 party spot in town for all gardeners and landscapers.
Copyright 2018 The Lawrence Journal-World. All rights reserved. This material may not be published, broadcast, rewritten or redistributed. We strive to uphold our values for every story published.