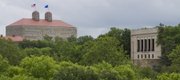 Subscribe to the email edition of Heard on the Hill and we'll deliver you the latest KU news and notes every weekday at noon.
Your daily dose of news, notes and links from around Kansas University.
• I figured I'd share just a few more details on KU's cancer effort that didn't make my story Tuesday.
KU officials said they spent more than $350 million on the effort.
Brought up in the gathering yesterday was that even though designation has been KU's top research priority since 2005, KU first applied for designation in the mid-1970s.
"We've really been working very hard to correct that deficiency ever since," said Roy Jensen, the KU Cancer Center's director.
If approved, KU would join 66 cancer centers around the nation.
Philadelphia, as KUMC leader Barbara Atkinson said Tuesday, has four centers.
Also, as a hint to the economic potential of the designation, the effort so far has created 1,123 jobs and contributed $453 million to the region's economy, KU officials estimate.
I think it's a fair bet to say that one thing that's worrying folks at KU is the uncertain federal budget situation, which could easily play a role if research funding takes a hit.
• All that posturing that I was looking forward to this week as the Student Senate was preparing to get upset at Texas A&M; for leaving the conference?
Well, it's no more.
After I wrote about the rather tongue-in-cheek resolution Tuesday that chided A&M; for its "egregious behavior," the Student Senate powers that be got involved, and I heard back from Sean Elliott, the senator who wrote the legislation.
It's being pulled from consideration this week, and a new version is being submitted.
Elliott wrote me and said while he intended the resolution to be funny, but not everyone saw it that way.
"Some student senators and certain members of the Student Senate executive staff feel like this would reflect negatively on the Student Senate," he wrote. "And, that it would be unlikely that people would catch the joke."
I was with you, Sean. I think Student Senate could take itself a little less seriously and that would probably be just fine. But, hey, that might be just me.
• Here's another good discovery from the fine folks at KU's Life Span Institute.
KU researchers John Colombo and Susan Carlson have found evidence that infant formulas improve the brain and heart when they are enriched with long chain polyunsaturated fatty acids (or LCPUFA … you know it's serious when even the acronym stretches to six letters).
They studied 122 infants from birth to 12 months, and found that adding the formula resulted in babies that were more cognitively advanced and who had lower heart rates than infants who were fed formula without any LCPFUA.
• While Heard on the Hill doesn't contain much LCPUFA, it's still a healthy part of a balanced breakfast. Your tips help make it that way, so keep sending them to ahyland@ljworld.com.
Copyright 2018 The Lawrence Journal-World. All rights reserved. This material may not be published, broadcast, rewritten or redistributed. We strive to uphold our values for every story published.