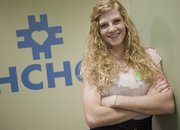 A late-night bathroom stop after a wild student party changed the course of Ali Edwards' life. It led her to abandon Hollywood plans to take instead an AmeriCorps position at Heartland Community Health Center, then become the center's development director.
Born in Meade, where her father farmed and her mother directed Minneola District Hospital's obstetrics department, Edwards was known as a tomboy.
"I played outside all the time, made forts in trees, looked for action and was a huge KU sports fan," she says. "My dad used to joke I was the son he always wanted because I was so into sports, whereas my three brothers weren't."
Edwards played basketball, was active in track and cheerleading, and by seventh grade she'd decided she'd become an athletic trainer.
She graduated from Meade High School in 2007, enrolled in KU's School of Education athletic program and spent her first few weeks partying. After one party she stumbled into Campus Christian house, 1320 Ohio, searching for amenities.
"People were friendly, serving free hot dogs but no alcohol, and I wondered what it was all about," Edwards says. "Someone handed me a card and invited me back."
She returned to the house several weeks in a row but arrived late for services and left early to avoid getting involved.
"My family are regular churchgoers, and I'd say I was a Christian, but it was mostly words I didn't fully understand, and it wasn't really service-oriented," she says. "I continued attending Campus Christians, and something of deeper significance starting happening to me."
The athletics world lost its luster. Edwards stopped partying at the end of the first semester, transferred to the journalism school to study strategic communication, then decided to become a celebrity event planner in Hollywood. She became more involved in Campus Christian's worship and Friday night service projects, and volunteered at Jubilee Café.
"I learned the importance of serving and loving others, and loving my neighbor as myself," she says. "I was never consciously seeking God. It seemed God sought me and led me in a different direction to the one I'd planned."
When (then) Campus Christian chaplain Rev. Tony Bedora encouraged her to apply for an AmeriCorps outreach position at HCHC, she resisted.
"I was determined to move to L.A. but decided to give the center one try," she says.
Edwards met HCHC's director Jon Stewart, learned about the center's mission to provide quality holistic health care for those living below the poverty line, then applied for the AmeriCorps position. It was the perfect fit.
She gradated from KU this year, completed her AmeriCorps term and is now HCHC's full-time development director.

"My work can be challenging because many deny poverty exists in Lawrence because they don't see it. Many poor and suffering people look like us, they just don't have good support systems," Edwards says. "HCHC supports people to make healthy lifestyle changes and discover meaning and hope in their lives. I've changed, too. I'll never be a Hollywood party planner. My life now has purpose, significance and meaning."
Copyright 2018 The Lawrence Journal-World. All rights reserved. This material may not be published, broadcast, rewritten or redistributed. We strive to uphold our values for every story published.