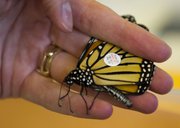 As the annual monarch butterfly migration takes the orange-winged insects through Kansas, Lawrence families caught and tagged butterflies at the Prairie Park Nature Center, 2730 Harper St., on Sunday.
During the Magnificent Monarch event, participants were given nets to catch the butterflies in the park to take them to be tagged. Nature center volunteers placed a small sticker on the butterflies' wings to help researchers trace their migration. Children then received a certificate, which included information on how to check if the butterfly is recaptured.
Holly Monroe, a nature center volunteer from Topeka, said that she was surprised by the number of monarchs that have reached Lawrence so far and that most participants caught butterflies.
Emma Wedel, 5, and her grandparents had especially good luck and caught two monarchs. As she released the butterfly, blowing it a kiss as it flew away, her grandparents explained how much the Baldwin City child loves the nature center.
"We brought her here when her little sister was born to keep her occupied and involved with something," said Debby Wedel, Emma's grandmother. "When we got the call that her little sister had arrived, we couldn't get her to leave."
Residents unable to attend Sunday's event can still participate in the tagging program. The nature center is open from 9 a.m. to 5 p.m. Tuesday through Saturday and from 1 p.m. to 4 p.m. Sunday. It is closed Mondays. Monroe advised calling ahead. The tag and certificate cost $1. For more information, call the nature center at 785-832-7980.
Copyright 2018 The Lawrence Journal-World. All rights reserved. This material may not be published, broadcast, rewritten or redistributed. We strive to uphold our values for every story published.