Photo Gallery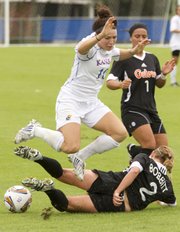 KU soccer vs. Florida
Despite freshman Ingrid Vidal's conference-leading sixth goal of the season and another score from sophomore Caroline Kastor, Kansas University soccer lost to No. 8 Florida, 7-2, on a cloudy Sunday afternoon at the Jayhawk Soccer Complex.
KU, 1-2 versus ranked opponents this season, fell to 6-3 overall, while the Gators improved to 7-2.
After recording just three shots in the first half and giving up five Gator goals, Kansas came out a more aggressive team in the final 45 minutes, collecting 11 shots and matching Florida with a pair of goals. KU's defense also tightened up, allowing only three UF shots in the second half compared to 11 in the opening period.
"Second half was great," KU midfielder Whitney Berry said, "and I think if we would have played like that in the first half it would have been a completely different game, especially with the fact that we had a penalty kick called, had a goal scored in the last two seconds of the first half and they took two goals back from us, which was unfortunate."
Florida's Tahnai Annis, Annie Speese, Havana Solaun and McKenzie Barney all scored goals in the first half, as well as Lindsay Thompson, who found the back of the net just seconds before time expired in the first half.
KU regrouped at halftime and, despite a Florida goal off a penalty kick in the 48th minute, played more on the Gators' side of the field in a physical second half, during which the teams combined for 16 fouls.
"I thought our play in the second half was a lot better," KU coach Mark Francis said. "We talked about the things we needed to do but they need to figure that out on the field because at that point the game is over at halftime. The second was a lot better because we competed better."
Kansas will open Big 12 Conference play at No. 2 Oklahoma State on Friday.
"Next week we play Oklahoma State," Francis said, "and it is not going to get any easier, so we have to focus on what we are doing because this game got away from us, but it could have been a totally different game."
Copyright 2018 The Lawrence Journal-World. All rights reserved. This material may not be published, broadcast, rewritten or redistributed. We strive to uphold our values for every story published.