Three years ago Tessa Gratton accepted a dare: Write a novel in six weeks. The challenge was prompted by Gratton's impassive attitude toward her critique partner, who was writing a novel at the time.
"I wasn't being very sympathetic," Graton says. "And so she dared me to write a novel in six weeks to see if I thought it wasn't as easy as I kept telling her it was. So I did. And it was easy to finish, but it took 4 or 5 months to turn it into a good book."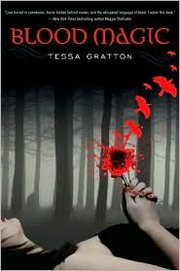 Gratton, a Kansas University alumna and Lawrence resident, won the dare. Her book, "Blood Magic," was published as a young reader by Random House this past May. Gratton is 30. And she will soon tell the public how she was able to achieve her writing and publishing goals. Gratton will speak at 2 p.m. Saturday at Lawrence Public Library, 707 Vt. She will tell how she wrote the book, scouted for an agent and got published. She will also read a chunk or two from her book, answer questions and sign copies of her novel.
"We are really excited to see her debut novel take off," says Rachel Smalter, adult programs librarian at the Lawrence Public Library. "Particularly the thing I really like about her take on the paranormal romance is that her style is little more dark. It gets a little bloody."
Gratton's writing style has had years to take shape. Always an avid reader, Gratton gravitated toward books with magical themes, particularly Robin McKinley, who Gratton discovered as a second-grader. McKinley wrote "The Hero and the Crown." The book won a Newbery Medal, and Gratton has been seduced by McKinley's work ever since. But it's not that Gratton aims to copy McKinley. Gratton wants to honor her own unique voice. But she is inspired by McKinley's ability to tell a story.
"I've been reading her books since I was 9, and I reread them and I love them," Gratton says.
Gratton's own book is available at the library, but it is never on the shelf for very long, say the librarians.
About 400 pages long, "Blood Magic" is a paranormal romance with two teenage protagonists, Nick and Silla. Nick and Silla have a mutual family link to American folk magic, which they realize after stumbling into each other at the cemetery one night. The book shifts back and forth between Nick and Silla's perspective as the romance deepens and a murder mystery unfolds.
"There's lots of body snatching and cemeteries and kissing and things like that," Gratton says. Of the nearly 70 customer reviews on Amazon, about 50 give a four- or five-star review to the book. Many readers compare the book to Stephenie Meyer's "Twilight." series.
There is a companion book due in January. And in the meantime, Gratton is working to publish pieces from her blog, "Merry Sisters of Fate," a writing site that also features young adult authors Maggie Stiefvater and Brenna Yovanoff. The blog regularly receives 40 to 50 comments per post, says Gratton, and the book will try to glean some of its material from reader responses.
"We very much value reader interaction, and we want to try to put that into the book, too," Gratton says.
Copyright 2018 The Lawrence Journal-World. All rights reserved. This material may not be published, broadcast, rewritten or redistributed. We strive to uphold our values for every story published.