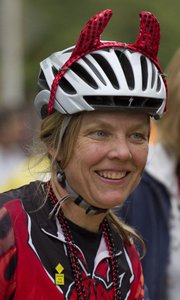 More than 2,500 cyclists converged on Lawrence on Saturday as the city welcomed the riders at the midpoint of the Bike MS Ride to benefit people with multiple sclerosis.
Tara Duerr, spokeswoman for the Mid America chapter of the National MS Society, said her organization raises funds to support people with MS in western Missouri and all of Kansas.
Lawrence welcomed the cyclists by closing a portion of Massachusetts Street and setting up food and beer vendors, bounce houses for children and live music in South Park.
This year marked the first time the cyclists stopped overnight in Lawrence. For the last 20 years, the ride stopped overnight in Sedalia, Mo.
"We're excited to be here," Duerr said. "It's our first year in Lawrence, and so far it's been great. ... We hope to come back again for many, many years."
The event helped boost the local economy, as cyclists flocked to local hotel rooms to stay the night.
"We think this is a perfect ending to the day," said Jennifer Boone, a Tonganoxie resident who rode in from Olathe with her father and her husband. "We love Lawrence."
That "we" applied to her husband, as her father, Richard Allain, of Otterville, Mo., hadn't been to the city before.
Allain had ridden in previous rides, but for Boone and her husband, this was the first time.
"We got rained on pretty hard, but that's when you've got to hunker down and bite the bullet," Allain said, shortly after arriving about 2:30 p.m. "We got out of it."
The ride had two starting points , at Garmin's headquarters in Olathe, and a second in Topeka. All the riders will head back to Olathe today.
Dave Snuffer, a Kansas City, Mo., resident, was riding on a team called "The Feisty Devils," many of whom sported devil horns on their helmets as they rode. Snuffer said he enjoyed being able to participate in the event and raise money for the cause, as multiple sclerosis — a "devastating disease," he said — affects two of his friends.
"Our chapter actually serves 8,000 people in our area that have multiple sclerosis," Duerr said. "And 40,000 people are affected by the disease, which means family and friends and co-workers."
Cyclists participate in fundraising, and also raise awareness of the disease, she said.
"We're expecting about $1.8 million," she said. "It's a big fundraiser for us."
The money goes to local programs and services, including financial aid, scholarships and self-help groups.
Copyright 2018 The Lawrence Journal-World. All rights reserved. This material may not be published, broadcast, rewritten or redistributed. We strive to uphold our values for every story published.